Restaurant-quality meals made in minutes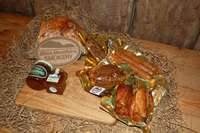 Create restaurant-quality meals in minutes with luxurious smoked produce courtesy of the Black Mountains Smokery.
We're all very busy people and it is a cruel fact of life that in-between work, play and much-needed sleep we don't always have enough time to spend hours in the kitchen cooking up a culinary masterpiece. Sometimes all we really have time for is something quick and easy.
The good news is that, thanks to the Black Mountains Smokery, this idea of quick and easy meals needn't conjure up unsavory images of microwave dinners and leftover fry ups.
The team at the Black Mountains Smokery have already done all of the hard work - from sourcing their food from top local producers to ensure the best possible quality, to smoking everything in traditional kilns using locally-sourced oak chips to add that wonderfully Welsh taste.
This all means that the produce is packed so full of flavour that you really don't need to do all that much with it - simply prepare a few slices of award-winning Gressingham duck breast to top off a salad, or crumb a handful of oak roasted salmon to toss in with a helping of pasta, fresh garden herbs and some lemon juice and you've got yourself a restaurant-quality meal in minutes.
This fantastic combination of convenience and affordable luxury also makes for perfect finger food, whether you're throwing a fancy dinner party or looking to enjoy a picnic in the sun with friends.
In fact, check the website and you'll find a selection of gift hampers packed with fantastic local produce plus a range of condiments, all so that you can enjoy the finest possible food with minimal effort!
And if you don't believe us, just ask the head chefs at some of Wales' top restaurants, many of whom dshave started showcasing Black Mountains Smokery produce on their menus.
Many more items are available from Black Mountains Smokery. Their smoked foods make fantastic gifts because they are luxurious, delicious and very quick and easy to prepare. The hugely popular 'Taste for Two' hamper costs £39, while the exclusive 'Deli Platter Hampers' cost £85 and include a bespoke oak platter or chopping board.
Visit their excellent website at: smoked-foods.co.uk.