Brits to fill Olympic void with fitness craze holiday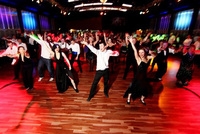 With the Olympics over, Brits are looking to fill the void by getting in shape like Olympians. Many of which, are turning to fitness holidays like Sunblast to fuel their new ambitions.
Brits being spurred on by athletes to re-think their fitness regimes look to new fitness craze holiday providers such as Fitness Unleashed for fun health and exercise classes.
Fitness Unleashed have seen their web traffic double during the Olympic and post-Olympic period.
The SunBlast fitness holiday, being held on 1st-6th October 2012 in Calpe, Spain. The holiday features mass classes for Zumba, Booiaka, Ceroc, Cheerobics and Yoga.
Craig Addison, Director of Fitness Unleashed says, "With a majority of the nation leading hectic daily lifestyles; many blame the rush hour traffic home, family commitments, or demanding day job for the lack of fitness in their weekly regime. Now, post-Olympics we are hoping that the encouragement and desire to get fit will stay, and promote a healthier Britain.
"Proud as we are for team GB landing us third place for the Olympic Games, it was just over a week ago that Great Britain also gained third place as the laziest country in Europe. Let's hope the Olympic legacy will live on, and create a new wave of fitness in the UK."
For more information, visit fitnessunleashed.co.uk.