Canon PIXMA All-In-One printers with new software features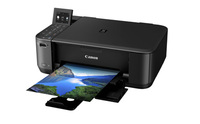 Canon launches four compact All-In-One PIXMA printers which feature comprehensive new software offerings designed to enhance the printing experience. The new PIXMA MP230, MG2250, MG3250 and MG4250 are optimised for printing documents from the internet and photo lab quality images at home.
The printers are the first PIXMA models to include, as standard, My Image Garden, a one-stop platform that combines all software currently available for Canon PIXMA printers into a single, easy-to-use interface. The intuitive software also includes a range of new, advanced, user-friendly features, such as Automatic Suggestion, Automatic Layout and Face Recognition.
In addition, the printers are compatible with Print Your Days, Canon's new Facebook app for PCs that has been designed to make it easy to send and print photos directly from Facebook to a Canon PIXMA printer without the need for any additional software. The app includes tools to allow users to automatically adjust photo layouts and create unique collage prints with up to five photos printed on a page. It also provides a range of style and editing options to add a further creative twist to photo printing.
Creative Park Premium, Canon's free resource for downloading and printing cards, printable crafts and stationery, is also available through My Image Garden and features a new, easy-to-use photo selection process that enables users to display, download and print images through a single user interface. New content from the likes of National Geographic and NASA is now available, including beautiful photos that can be used to create calendars and a selection of printable crafting templates for building 3D space shuttles.
All four new PIXMA printers feature Auto Power Off and a new Auto Power On setting, which makes printing from a powered-down state quick and convenient. Documents or photos can also be sent from a wireless device and printed with ease without the need to manually switch the printer on beforehand, or off after printing. Quiet Mode, also available on the new PIXMA models, provides the option of a quieter printing experience.
PIXMA MP230
The new PIXMA MP230 is an affordable printer with print, scan and copy functions, perfect for first-time printer owners, students and young families looking for a home printer. With a stylish matte black design and compact footprint, the printer requires only minimal desk space and comes with print speeds of ISO ESAT 7.0ipm for mono and 4.8ipm for colour prints.

The MP230 produces high quality documents with 4800dpi print resolution using Canon's FINE cartridges and also takes the economical XL cartridge size. The MP230 also offers ChromaLife100+ when used with genuine Canon paper and inks, for long-lasting, beautiful photos.
PIXMA MG2250
The new MG2250 is a competitively-priced printer with print, scan and copy functions, and features a seven-segment LCD display. Perfect for those looking for a compact and affordable printer for personal use, the MG2250 features Canon's FastFront design, saving desk space and making it quick and easy to replace ink cartridges and paper.

The PIXMA MG2250 prints at ISO ESAT 8.4ipm in mono and 4.8ipm for colour images. It can print 10x15cm borderless photos in approximately 44 seconds. When copying or printing, users can also select to print either two or four pages on a single sheet of paper, reducing the total number of printed pages required for larger documents and helping to reduce overall paper consumption and ink costs.

The MG2250 takes Canon's FINE cartridges as well as the economical XL cartridge size. It prints at up to 4800dpi resolution and also offers the ChromaLife100 system, producing quality, long-lasting photos.
PIXMA MG3250
The PIXMA MG3250 includes all the features of the MG2250 but offers faster print speeds of 9.2ipm for mono and 5.0ipm for colour images. The MG2250 also features built-in Wi-Fi and a free smartphone and tablet app for printing photos and scanning, to give greater printing flexibility around the home. For the environmentally-conscious user, the MG2250 also features Auto Duplex (double-sided) printing which can cut paper costs by up to 50%.
PIXMA MG4250
The PIXMA MG4250 is a feature-laden, compact, All-In-One printer. It comes with a 6.2cm colour TFT display for printing easily without a PC and also offers a broad range of connectivity options. The MG4250 features built-in Wi-Fi and the PIXMA Cloud Link, which includes direct access to Picasa online albums, Web Template Print and Google Cloud Print. This flexibility to connect over a range of wired and wireless technologies provides users with the freedom to print from almost anywhere in the home and from a host of wireless devices.

With fast print speeds of 9.9ipm for mono and 5.7ipm for colour prints, the MG4250 prints high quality documents and photo lab quality prints quickly. Auto Duplex Print provides the option to print double-sided, helping to cut paper costs by up to 50%.