Low cost sales success story at Swallows Nest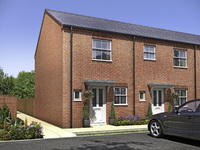 Taylor Wimpey Midlands has cause for celebration following a flurry of sales at its popular Swallows Nest development in Coventry, using the house builder's Low Cost scheme.
The development in Allesley has already seen ten sales through its Lost Cost scheme, since the imitative launched in July. As a result of this success, the development is selling well ahead of schedule and house hunters in Coventry are being urged not to miss out on their dream home.

There were 12 homes in total available using the Low Cost scheme at Swallows Nest. The two remaining properties which qualify for the scheme are the popular two bedroom York house type, priced £119,996.

Anne Wallace, regional sales director for Taylor Wimpey Midlands, said; "We're delighted to be providing affordable homes for first time buyers. The Low Cost scheme gives local homebuyers a real opportunity to get onto the property ladder at a very affordable price. The stunning range of homes coupled with the developments fabulous location in Allesley, means it is hardly surprising that Swallows Nest has been so popular.
"With homes selling faster than anticipated, I'd encourage anyone interested in buying at Swallows Nest to visit the development before it's too late!"
Low Cost is available on a selection homes and allows purchasers to own 100% of their home having paid for just 75% of the value of the property. The initiative will make a real difference to a number of buyers as it allows them to take out a mortgage they feel comfortable with.
If you have grown up in the area or have close connections to Coventry and have a household income of less than £60,000, then you can be rest assured as it's likely that you will be eligible for the scheme.
Situated off Browns Lane, Swallows Nest offers a convenient location just three miles west of Coventry City Centre in Allesley village. With excellent schools and a fine selection of pubs, restaurants and shops all close by, the village is the perfect choice for a wide range of house hunters.

For further information, visit taylorwimpey.co.uk.