Revolutionary varicose vein treatments come to Plymouth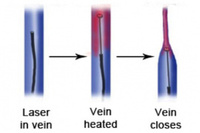 A Plymouth aesthetic clinic is hosting an open day in conjunction with leading vascular surgeon Kenneth Woodburn, from the Cornwall Vein Clinic, to introduce two cutting edge treatments for varicose veins.
Refresh SouthWest, based in Stonehouse Plymouth, is one of a select few clinics in the South West offering the new treatments for varicose veins and other conditions such as thread veins.
The NHS in the Southwest will no longer treat varicose veins unless there is a significant exceptional clinical need, leaving many sufferers embarrassed by the unsightly appearance of the veins which can also cause discomfort and pain.
The Clinic will open its doors on Wednesday Sept 5th at 5pm. Visitors to the open day can receive a free, no obligation personal consultation. As these are liable to very popular, it is advisable to book beforehand.
Kenneth Woodburn commented: "Both myself and team of experienced nurses will be available to offer advice and discuss potential treatment options with those experiencing problems with varicose veins or other vein conditions.
"These cutting edge treatments have been proven to relieve the symptoms associated with varicose veins and improve their appearance."
Following an evaluation that includes an ultra-sound examination of the veins the treatments, called VNUS Closure Procedure and Endovenous Laser Therapy (EVLT), are performed under a local anesthetic.
Each treatment takes between 30 to 90 minutes and have a permanent affect on the treated veins. Patients can go home on the same day.
Both treatments are minimally invasive and approved by the National Institute of Clinical Excellence (NICE), which assesses the safety and effectiveness of all new treatments.
The treatments use heat to destroy the faulty vein. The VNUS Closure Procedure involves a heater probe inserted into the faulty vein below the knee to close the faulty vein, redirecting blood to nearby healthy vein, whilst the EVLT uses a medical laser fibre inserted into the vein to seal the faulty vein.
For more information, visit refreshsouthwest.co.uk.