New 'Style in the Souk' at Dar Jaguar, Marrakech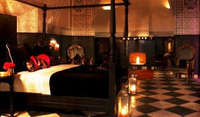 Whether you're a fearless fashionista or a sartorially unsure soul, the new 'Style in the Souk' break from Dar Jaguar, a luxurious five bedroom riad in Marrakech, offers friends and family alike an inspiring chic retreat.
Created by Lucia Silver, owner of Dar Jaguar and 'The State of Grace', the only fashion house in London to offer head to toe bespoke garment and accessory design and personalised styling, guests will be treated to a unique series of style-inspired workshops and experiences during their stay.
Enjoy 'Style in the Souk' from only £300 per person based on an exclusive use booking of five double bedrooms for 10 people for a three night stay including:
Styling and What to Wear in hot exotic countries workshop
Capsule packing for hand luggage only trips workshop
Designed for comfort – what to wear when travelling workshop
Private guided tour of the souk and/or religious and historical sites
Healthful Breakfast
One Hour's full body massage
A group belly dancing lesson
Four Personal staff including a cook and full night security
Located in the heart of Marrakech's old medina, just five minute's walk from the world-renowned Jemaa el Fna Square, Dar Jaguar is perfectly situated to enjoy the sights and sounds of the souks, restaurants and colourful nightlife in one of Africa's most vibrant cities, as well as providing a peaceful luxurious haven for its guests.
Dar Jaguar is the latest addition to Mantis, a collection of privately owned boutique hotels and eco escapes around the world, which pride themselves on representing the finest example of its kind and celebrating the culture, gastronomy, architecture and nature of the locations in which they are found to offer guests a truly authentic experience.
The fashion house partnership has resulted in this very mantra of representing the finest example of its kind with exquisite interior design that blends traditional Moorish and Oriental architecture with an elegant European romanticism. Each of the four spacious en suite rooms and the Royal Suite are endowed with bespoke interior furnishings fashioned by talented local Moroccan craftsmen, which can also be commissioned to take home.
Dar Jaguar prides itself on being able to offer uniquely bespoke experiences in addition to its specially created stays. Chefs, chauffeurs, masseurs, beauty technicians and personal shoppers are always on hand to cater to guests' every wish, and all staff and security are English-trained and English-speaking, meaning excursions and special requests are easy to arrange. Other activities, which can be booked at extra cost include; Traditional Cooking Lessons (including trips to buy local foods in the colourful medina markets), Belly dancing lessons, Henna Tattooing, Fire Eaters, Belly Dancers and Snake Charmers, Local Gnaoua Musicians, Mini trips to the Desert and other wonderful locations outside of Marrakech.
Book the 'Style in the Souk' package for 10 people on an exclusive use basis for five double bedrooms from only £300 per person per night including accommodation, breakfast, three workshops, a private city tour, a one hour massage and a belly dancing lesson and excluding all travel, taxes, lunch, dinner and extra activities.
For more information on Dar Jaguar, visit mantiscollection.com. For more information on State of Grace, visit thestateofgrace.com.