Simon Rogan to cook Great British Menu at Taste Cumbria Festival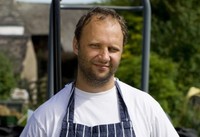 Praised for his technical brilliance and renowned for his use of unusual ingredients, combinations, styles and blending of tastes and textures, Simon Rogan has been called "one of the most innovative chefs in the country" by the Guardian, and his restaurants - L'Enclume and Roganic - are known for producing some of the most startlingly original menus around, with L'Enclume scoring 10/10 in the Good Food Guide for 2013.
Simon Rogan is bringing his stunning culinary style to the Taste Cumbria Festival by way of a unique 'Pop-up Restaurant', a temporary L'Enclume restaurant which will be set at the heart of the festival. Rogan, who won Great British Menu representing the Northwest on the BBC series, will be serving festival visitors his signature dishes cooked on the programme.
Simon uses luxury ingredients, market produce, foodstuffs farmed on the premises of L'Enclume in Cartmel, with delicate flavours of flowers, herbs and other foraged items. This, coupled with a love for innovative and unusual technique, has informed his style - leading to dishes which look astonishing, play tricks on the senses and change constantly.
Modern menus, an eye for trends and a keen sense of the very best produce available at any given time lead to dishes such as potatoes rolled in onion ash, cod "yolk" (with the texture and appearance of an egg yolk, but made from cod mousse), sorbets, and herb custards.
Simon Rogan competed on the Great British Menu 2012 and won the dessert course. He also managed to be in the top three dishes for the starter, fish course and main and was in many ways the man of the programme.
Festival goers can enjoy the 4 course Great British Menu for £60 which includes transport to Dovenby Hall from Cockermouth.
To book tickets visit tastecumbria.com