Wolfrace winter wheel promotions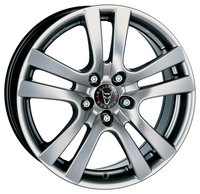 Don't get caught out this Winter! Wolfrace have this year's Winter woes covered with an extended range of high quality Winter alloy wheels and tyres at affordable prices.
More and more motorists are discovering the benefits of Winter wheels and tyres and following the success of last year's Winter program, Wolfrace – the UK's best know alloy wheel brand, has extended their range of Winter wheels for 2012.
Wolfrace's range of Winter specific alloy wheels includes design such as Como, Davos, Campo and Salerno – all are made in Germany, have a five year warranty and are complete with the much sought after TUV certification – the European mark of quality ensuring consistently high standards of manufacture and finishing.

With easy-care design, corrosion resistance by multi-layer coating with acrylic base clear coat and a 5-year warranty thanks to Protect4Life coating, Wolfrace provides the optimum range for the upcoming Winter season in 2012.

Team any of Wolfrace's attractive Winter designs with the preferred choice of winter tyre, the Wanli Snowgrip and you have the perfect combination of style and purpose.
Whilst all Wolfrace winter wheels and tyres are available to purchase separately, buying them as a package is where the real savings can be enjoyed – get in early and you'll be able to pick yourself up a 15" Wolfrace Winter package for under £500, a 16" for under £600, a 17" package under £800 or an 18" package including for under £900.

All prices are suggested retail prices including Wanli Snowgrip tyres.
The Wanli Snowgrip tyre has a unidirectional, v-shaped tread pattern; this facilitates the easy dispersal of water from its surface. The advanced tread pattern offers better grip on ice and snow and out performs standard tyres in temperatures of 7 degrees and below.

Sizes available include 195/50/15, 195/65/15, 205/55/16, 225/45/17 and 225/40/18. Prices start at £57.95 per tyre.
Wolfrace winter wheels and tyres can purchased from any of the 500+ Wolfrace dealers throughout the UK, use the dealer locator on wolfrace.co.uk.