Choose your top 5 Polar animals in the 'Polar Big 5' contest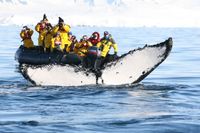 Quark Expeditions, the leader in polar adventures, announces a world-wide contest to name the Polar Big 5. In the spirit of the African Safari Big 5, Quark has created an online platform inviting people from all over the world to vote for the animals they believe deserve to be one of the famed 'Polar Big 5.'
"Those travellers who have been to the Polar Regions, or have Polar travel on their bucket list are going primarily to see the wildlife unique to these regions," said Hans Lagerweij, president of Quark Expeditions. "We wanted to raise awareness of the diversity of creatures one can see on Quark's voyages, give travellers the opportunity to learn more about each of them and pick the top five." The site also features two "blooper" video outtakes that expose the 'Quarky' side of these animals, and showcases their unique personalities when interacting with one another.
On the dedicated contest website, PolarBigFive.com, visitors can watch campaign video clips for all nine of the animal contenders, learn about these unique Polar inhabitants and their habitats and ultimately, place their votes electronically, free of charge, for their favourite five for a chance to win passage for two on aboard the Sea Adventurer for the 10-day Antarctic Explorer: Discovering the 7th Continent departing November 4, 2013.
The contestants are, in no particular order:

The king penguin
The reindeer
The albatross
The walrus
The humpback whale
The musk ox
The polar bear
The elephant seal
The leopard seal
The online contest runs from 5 September to 30 November 2012. Those who vote will be automatically entered to win the trip. Winners will personally be contacted by a Quark representative as well as announced no later than 15 December 2012 on the site. Visit PolarBigFive.com to vote!
For more information about Quark Expedition and its voyages, visit quarkexpeditions.com.