Back in the game! Spain sees highest increase in sales since 2008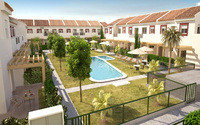 Figures released last week by the Ministry of Development has revealed that 9,502 housing transactions were made by foreigners in Spain during the second quarter of this year over the same period in 2011 - the highest figure seen for four years when transactions reached 11,130.
It is thought the decline in Spanish property prices has contributed to the 12% rise in sales. In Q2 2012, prices dropped by 8.3% to 1,606.4 euros per square metre.
Marc Pritchard, Sales and Marketing Manager of leading Spanish house builder Taylor Wimpey Espana comments, "There are numerous reasons why Spain still ranks top of the list for property buyers. For Brits the easy to reach reliable good weather plays a big part, swapping grey clouds for blue skies and the strength of the pound against the euro means that visitors can get more for their money which has no doubt aided the increase in people snapping up attractive deals. We have seen a rise in enquiries particularly amongst Brits, Germans and Russians and these are translating into sales - last week alone we made 11 sales - it was a good week for us!"
In terms of province of residence and location of property purchases, Alicante took the number one spot with 2,645 transactions while Malaga flowed behind with 1,127. Barcelona took third place with 847, followed by Tenerife with 655 and the Balearic Islands 536.
Meanwhile, further positive news from the Bank of Spain has shown that foreign investment in Spanish property during the first three months of 2012 increased by 2.5% to 1,163 million euros compared to the same period in 2011.
Marc Pritchard explains, "It's not surprising that most of the property transactions in Spain have taken place in Alicante, Costa Blanca. As one of the most famous coastlines in Spain, the Costa Blanca attracts millions of visitors each year and is traditionally a favourite destination for foreign buyers drawn to the clear blue waters, miles of golden sandy beaches, quaint villages, sophisticated cafes and restaurants and an abundance of historical, cultural and leisure activities. As a result of the Costa Blanca's popularity, we will be launching another front line development near Alicante this autumn."
For those who are thinking about making a Spanish property purchase this year on the sunny Costa Blanca, why not take a look at what Taylor Wimpey Espana has to offer.
The new Lagunas del Sol development, a residential complex set in a beautiful rural area and located close to the heart of Ciudad Quesada is made up of townhouses designed in a natural setting and very close to the beautiful beaches that this area is famous for.
The properties have been built on two floors with 2 or 3 bedrooms, a garden, private parking and outstanding views towards the swimming pools and gardens available now from €99,900 + 4% VAT until end 2012.
The Calpesol residential complex in Calpe, Costa Blanca perfectly matches buyer's needs. Comprised of stunning houses with gardens, this development affords communal swimming pools and three bedroom and two bathroom properties with roofed sun terrace and private parking costing from just €169,000 + 4% VAT until end 2012.
The private complex of beautiful 3 bedroom townhouses of Las Brisas de Alenda is located in the peaceful and quiet area adjacent to the Alenda Golf Course while the wonderful beaches of the Costa Blanca are just a 15 minute away.
The Brisas de Alenda Golf complex has generous private gardens, a communal swimming pool and a club house as well as a gym, bar and restaurant costing from just €169,000 + 4% VAT until end 2012.
For more information, visit taylorwimpeyspain.com.