It's cheaper to buy a Taylor Wimpey Midlands home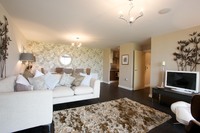 Aspiring homebuyers can find out how purchasing a property could be cheaper than renting by visiting their choice of Taylor Wimpey developments of new homes in Edgbaston and Worcestershire.
Rents went up across the country by more than 4% last year – with the average homeowner spending around £130 per month less than a typical tenant who is renting an identical property.

The good news is that purchasing a Taylor Wimpey property in Worcestershire or Edgbaston is an affordable alternative to lining landlords' pockets, thanks to the great-value prices and helpful homebuyer incentives available at the leading housebuilder's developments.
At the Highfield Gardens development of new homes for sale in Edgbaston, for example, qualifying first-time buyers can access a stylish one-bedroom apartment for 80% of its £149,995 full price under the FirstBuy scheme – that's just £119,996, including a 5% deposit of only £7,500.
The lucky first-time buyer who snaps up this high-quality home in Edgbaston can then look forward to monthly mortgage repayments as low as £512 – about £287 less than comparable rental fees!

Anne Wallace, Regional Sales and Marketing Director for Taylor Wimpey, says: "The long-term forecast points to rents going up and up, putting even more of a squeeze on the finances of many would-be buyers, while low interest rates are making life more affordable for many homeowners.
"At our developments of new properties for sale in Worcestershire and Edgbaston we can help make it easier for prospective purchasers to step on the property ladder and start investing in their own futures.
"And with over 800 high loan-to-value mortgage deals available right now, there's no reason for would-be buyers to get stuck in a rental rut."

FirstBuy works through a joint loan of 20% from the Homes and Communities Agency and Taylor Wimpey, which is repayable at the end of the 25-year mortgage term or when the property is sold. To be eligible, purchasers must be first-time buyers and their total household earnings should be less than £60,000.
This exceptional route into homeownership is also available at the Diglis Water development in Worcester, where one-bedroom apartments are priced from £129,995 (80% FirstBuy price of £103,996), and at the Poppyfields development of new homes for sale in Evesham, where two-bedroom houses are priced from £161,995 (80% FirstBuy price of £129,596).
For further information about Taylor Wimpey developments across the region, visit taylorwimpey.co.uk/midlands.