Cox and Lovejoy to be social media champions for Hotel GB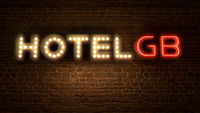 Sara Cox and Tim Lovejoy will champion rival teams via Twitter in an online battle of the sexes for new Channel 4 series Hotel GB.
Gordon Ramsay will run the restaurant and Mary Portas will be in charge of hospitality as they take over a hotel, with help from a host of famous names, and staff it with unemployed people in an attempt to raise as much money as possible for charity.
Tim Lovejoy will be championing Team Gordon and Sara Cox will be behind Team Mary. It's the first time celebrities have been appointed in this way as rival 'cheerleaders' to work on the social media elements of a TV show. Tim currently has 477,703 Twitter followers and Sara has 496,626 followers (26th September, 2012).
Their role, starting on Monday 1st October, will be to share news and gossip from the teams, encourage discussion around the show, get behind their favourite team members and trainees, take part in hashtag games including #hotel horrors and #guesstheguest, react to the shows as they tx and post exclusive behind-the-scenes photos and videos.
Adam Gee, Channel 4's multiplatform commissioning editor, said: "I'm really looking forward to this dimension of banter and energetic, partisan chat we've added through the enthusiastic involvement of Sara and Tim online. Anything could happen at Hotel GB and we'll all want to have a good gossip about it when it does.
"Social media is a real dynamo for TV and we're just oiling the wheels with this pairing of social media champions to ratchet it all up a gear or two and give viewers the chance to actually impact on the editorial of the show itself."
Gordon and Mary will be supported by a team of illustrious helpers. In Gordon's team Gok Wan will run the bar, Phil Spencer will be Maitre d' and Dr Christian Jessen will head up the gym. And in Mary's team Kim Woodburn is Head of Housekeeping, Kirstie Allsopp will be the Concierge and Katie Piper will run the Spa. And in addition to the two teams, Hilary Devey will run Devey's, the hotel shop.
Hotel GB is on every night from Monday 1st to Friday 5th October, at 9pm on Channel 4.
For up to date news from the hotel and behind the scenes gossip visit channel4.com/hotelgb or follow us on Twitter @C4HotelGB . #HotelGB