Motor Village Marylebone launches Colour Therapy local promotion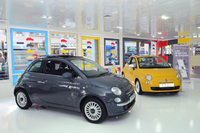 The success of the Fiat 500 Colour Therapy range has been expanded as a local initiative by Fiat's flagship dealer Motor Village Marylebone.

The Wigmore Street, London dealership has undergone a complete re-design to announce the 1970s-style marketing campaign while linking up with some of Marylebone's most renowned local shops and businesses to further promote the unique proposition: '500 Colour Therapy at Motor Village'. This creative pilot will eventually be rolled out to other leading dealerships across Europe.

Under the plan, Motor Village Marylebone has partnered with 18 carefully selected local shops known for their chic style and quality within a one-mile radius of the showroom. Of the 18, six are 'full-impact' shops dressed in one of the five Colour Therapy hues: New Age Cream, Countrypolitan Yellow, Pasodoble Red, Volare Blue, and Tech House Grey.

A fleet of Fiat 500 Colour Therapy cars has also been deployed to drive around the Marylebone area to show off the new colourful shades to best effect.

Customers are invited to take the colour 'therapy' test to see which shade best suits their character, followed by a test drive in the Fiat 500 of their colour choice. After taking the test drive, they are given a carnet of treats which can be redeemed at participating shops that match their chosen colour. The carnets include offers of fine foods, top fashion hairdressing, chocolates, upmarket cosmetics and games.

"Fiat 500 Colour Therapy is a fantastic new range and the cars have been very well received," says Tony Dittli, managing director, Motor Village. "We wanted to create something on a more local level that would leave a lasting legacy of customers and relationships for years to come, and I have been delighted with the way neighbouring businesses have embraced the 'Life Is Better In Colour' campaign.

"We are convinced that the local community will actively participate and take up our offer of a unique personalised Colour Therapy test, complete with free treats."

The Fiat 500 Colour Therapy range starts at £10,760 (OTR) for the 1.2 Colour Therapy, rising to £14,510 (OTR) for the 500C 0.9-litre Colour Therapy Twin Air.