Explore off the tourist tracks in Mallorca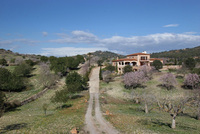 As the largest of Spain's Balearic Islands, Mallorca offers the perfect base to explore by car. In the north, winding mountainous roads lead to quiet coves, glorious viewpoints and pine-clad woodland, while the rural roads in the south head through undulating farmland, fields of wild flowers, olive trees and charming villages. What's more, accommodation specialist Mallorca Farmhouses offer a choice of luxury properties located miles away from the tourist traps, off some of the island's most interesting byways - and close to traditional bodegas, historic forts and local markets.
All of Mallorca Farmhouses' properties come with a private pool and maid service and nearly all have complimentary internet connection. Some of the best properties from which the island's hidden hotspots can be explored include:
Ca'n Picassa – Pollenca Hills
Set in the north of the island in the spectacular Son March valley with views towards pine-clad mountains, this three-bedroom property is set off a rural lane and reached by a steep winding track, offering complete privacy. The 300-year-old farmhouse is perfect for wine lovers as the surrounding area is one of the oldest wine-growing regions on the island, offering a choice of vineyards and bodegas to discover. When it's time to swap Sauvignon for sand, guests can take a short drive through rolling countryside to the beaches of Cala San Vicente and Puerto Pollenca. Available in 2013 from £578 per week and sleeping six, the price equates to under £97 per person.
Burguera Nou - South East
Set midway between the pretty village of Calonge and the stylish beach resort of Cala d'Or, this newly built, stone-clad villa is set in seven acres of open countryside and accessed via a private drive, commanding far-reaching views across almond and olive groves. For those wanting to stay just off the tourist tracks yet close to beautiful beaches, historical landmarks and local amenities, this four-bedroom property is ideal – and a car is definitely needed to reach the majestic hilltop sanctuary of San Salvador nearby. Available in 2013 from £665 per week and sleeping eight, the price equates to under £84 per person.
Es Pujolet – South East
This luxurious four-bedroom villa is set in the heart of the countryside, commanding magnificent views across verdant valleys speckled with ancient olive and almond groves towards the shimmering blue sea. For those wanting to explore the area, tennis courts, a golf course and the villages of Calonge and S'Alqueria Blanca are just a short drive away. While those wanting to take home an authentic souvenir can find pretty jewellery, handicrafts and delicious local produce at nearby Santanyí market. Available in 2013 from £1,079 per week and sleeping eight, the price equates to under £135 per person.
For further information and bookings, visit mallorca.co.uk. Car hire starts from £7 per day in 2013 with Rhino Car Hire. To book, visit rhinocarhire.com.