Don't become part of 'generation rent' urges Taylor Wimpey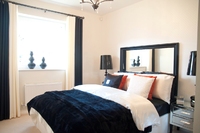 With recent figures suggesting the average age of a first time buyer is set to rise to 35, Taylor Wimpey Southern Counties is urging house hunters in Portsmouth to pay Scholars Walk a visit, where the development is bucking the trend and helping 20-somethings onto the property ladder.
The development, located on Tudor Crescent, boasts a stunning collection of two bedroom apartments and has proved a real hit with first time buyers, helping 60 people to escape the rental trap.
What's more, at Scholars Walk you'll find that not only is there a host of affordable first time buyer properties to choose from, but if you buy a brand new home there's also a number of financial incentives that can be used to help make the home ownership dream a reality.
Fiona Creed, sales and marketing director for Taylor Wimpey Southern Counties, said: "The recent figures outlining how many young Britons are resigning themselves to life at mum and dads or in rented accommodation for the foreseeable future is shocking, not least because there is in many cases a real chance of home ownership.
"We speak to so many first time buyers who have almost given up hope because they're either confused by the conflicting reports on house prices and mortgages, or simply deflated by the unrealistic deposits they think they're going to have to save. But as soon as we talk them through the options available and the ways in which we can help they soon realise there is a chance of owning their first home."
The Government backed NewBuy scheme is one of the initiatives available at Scholars Walk. The scheme means credit-worthy first time buyers may now only need to save a 5% deposit before they can get on the property ladder. In addition, home movers with limited equity in their existing house will also benefit from the increase in availability of 95% loan to value mortgages. NewBuy is available on brand new properties up to the value of £500,000, giving potential purchasers a helping hand onto the property ladder.
Fiona adds: "With NewBuy you only need a 5% deposit to secure a mortgage, not one that runs into the tens of thousands, making the amount you need to save much more achievable. I'm urging first time buyers to do their research and exhaust all of their options before giving up, and a good place to start is by visiting Scholars Walk to find out more."
Currently available at Scholars Walk is range of two bedroom apartments priced from as little as £137,000.
Set in the popular residential area on land that once was part of Highbury College, Scholars Walk is a carefully designed collection of apartments and houses that would be suitable for first time buyers, growing families, downsizers and investors alike.
For further information visit Scholars Walk, open Thursday to Sunday 10am to 5pm and Monday from 1pm to 5pm. Alternatively, log on to taylorwimpey.co.uk/scholarswalk.