No carbon footprint with luxury faux flooring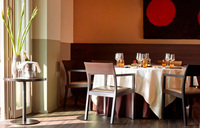 Moduleo is proud to announce the launch of its latest product Ethnic Wenge; a popular finish which offers a durable and stylish alternative to its natural, endangered counterpart.
Wenge is an extremely rare, tropical wood from the Congolese Millettia Laurentii tree which has become an increasingly popular trend in interior design. As a result, supplies are running dangerously low and Moduleo design floors has developed an eco-friendly alternative with the same stunning appearance as natural Wenge.
The dark wood which is renowned for its unique grain, is in high demand in the UK market and is commonly used for flooring, panelling and countertops. This means that the Millettia Laurenti is now threatened with extinction due to over-exploitation and has recently been placed on the IUCN Red List.
David Bigland MD of Moduleo in the UK and Eire comments: "Moduleo's Ethnic Wenge design flooring combines all the style and authenticity of Wenge but without the environmental implications. In fact, as our entire range is designed and manufactured at our state-of-the-art eco-factory in Belgium, we are proud to offer consumers complete peace of mind that their flooring is as nature-friendly as can be!"
The high demand for Wenge wood, makes it a perfect commodity for black market traders, and illegal logging is rife across the Congo Basin. Greenpeace is now demanding that the Democratic Republic of Congo Government and World Bank "take urgent action" to stop the growth of the logging industry in the area and concentrate on funding other alternatives to prevent this ongoing deforestation of our planet.
David continues: "Investment in our own wind farm will allow our production process to become entirely energy-independent in the not-too-distant future and all of our products contain at least 35 per cent recycled material of verified origin and are themselves recyclable."
Moduleo produces a diverse range of vinyl floor tiles in a large selection of colours and finishes. These are available in both a traditional LVT construction as well as a simple-to-install Click system which hold a strong consumer appeal due to its added flexibility.
For more information, visit moduleo.co.uk.