Help and advice to choose your first home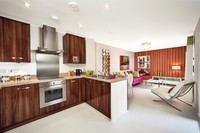 Would-be home owners keen to get a boost onto the property ladder can find out everything they need to know at a special event in Tonbridge.
Taking place Saturday November 3 from 10am to 5.30pm at Redrow's Cannons Wharf development, Redrow's friendly sales consultants will be on hand to help home buyers get to grips with the different schemes available to them.
The primary focus will be FirstBuy, which cuts the initial cost of owning a brand new home by 20% and is available on selected apartments at Cannons Wharf.
Christie Alaimo, sales director for Redrow Homes (Eastern), said: "In my experience first time buyers can find the experience of buying a home quite daunting. Our event is designed to simplify the whole process and help our potential purchasers to make the right choice.
"The best news for purchasers is that they may need a smaller deposit* than they thought and their monthly mortgage repayments should be lower than expected. They may even work out at less than the monthly rent on a similar sized apartment."
FirstBuy is available on selected apartments at Cannons Wharf, where open market prices range from £147,995 to £229,995 for one and two-bedroom homes.
The contemporary homes are bright, spacious and well planned, with open plan living areas, essential storage space and well specified kitchens and bathrooms. Integrated kitchen appliances are included in the standard specification so new home owners won't have to worry about buying and installing an oven, fridge freezer, electric hob and washer / dryer.
Using FirstBuy, a £147,995 apartment can be bought for only £118,396, with the outstanding balance covered by an equity loan, jointly funded by Redrow and the Homes and Communities Agency. The loan is interest free for five years and can be repaid when the home owner has more funds available.
To be eligible for FirstBuy customers must have an annual household income of less than £60,000 and be first time buyers or returning to the housing market after a change of circumstances.
Those who don't qualify may still find themselves propelled onto the property ladder without a hefty deposit as the homes can also be purchased with 95% mortgages under the Government backed NewBuy initiative.
One and two-bedroom apartments are ready to move into on the latest phase of development at Cannons Wharf. Show homes are open so prospective purchasers can peruse the high specification interiors on offer.
The development has been a popular choice for professionals, couples, investors and downsizers who want to be within 35 minutes commuting distance of London from the nearby train station. It's also within easy reach of the M25 and M20 via the A21, providing great links to the capital and the coast.
Tonbridge town centre, with all its amenities including shops, cafes, restaurants and supermarkets, is just a short walk away.
For more information, visit redrow.co.uk/cannons.
General information about FirstBuy can be found at homesandcommunities.co.uk/firstbuy.

*Deposit required is dependent on mortgage product