New mobile sleep app exposes the faces of fatigue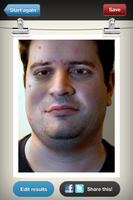 To celebrate 'National Sleep-In Day' (28th October 2012), The Sleep Council, the UK trade association for British bed manufacturers, has launched a fun, free mobile application which demonstrates the impact a serious lack of sleep can have on your physical appearance.
UrKnackered, which is available now on iTunes, has been developed to demonstrate how a shortage of sleep can take its toll, by turning sleepy, friendly faces into mug shots that show the most extreme signs of fatigue such as unsightly red spots and pale, grey skin.
Becoming a member of "The Sleep Patrol", application users are encouraged to shoot photographs of people looking suspiciously sleepy. The app then processes and revamps the photograph into a sleep-deprived face of horror! The victim's face is shown featuring dark circles, red eyes, grey skin and spots that can be exaggerated to three different levels of tiredness. The new fun photos can then be uploaded and shared with family and friends on Facebook and Twitter.
UrKnackered also contains details of how to spot someone who isn't getting enough sleep and is packed with useful tips on how to get a proper night's sleep. The new application is compatible with iPhone, iPod Touch and iPad and requires iOS 3.0 or later.
Lisa Artis, PR & marketing officer at the Sleep Council comments: "We wanted to create something that was really fun to do but also highlights the genuine effects that a lack of sleep can have on appearance and wellbeing. We want people to share their pictures, no matter how worrying, with their friends because there is an important message within these shots.
"Getting the right amount of sleep is vital – not only for to avoid looking like death, but to ensure you stay healthy and refreshed. People spend thousands of pounds on cosmetics to cover up the visual signs of fatigue but that doesn't have to be the answer – simply getting a good, comfortable night's sleep is the best possible remedy."
The Sleep Council has also released a series of new comical 'Sleep Patrol' related videos. The clips on YouTube show the effect lack of sleep has on our everyday lives - such as compensating with caffeine, falling asleep at your desk or even worse while driving. One video even sees two sleep patrol officers taking up an investigation after two people fall asleep whilst making love! (youtube.com/watch?v=UNVGSIom7gs)
Lisa added, "The videos are fun but we are sending you a serious message with 'Sleep Patrol' because we want to recommend that people start to think about replacing their mattress after seven years to ensure they are getting the support and comfort they need for a healthy, refreshing nights' sleep. This should help people avoid the seven year hitch – a condition which leaves people tired and exhausted as a result of sleeping on an ancient mattress."
The Sleep Council aims to raise awareness of the importance of a good nights' sleep to health and wellbeing, provide advice and tips on how to improve sleep quality and on choosing the right bed for optimum sleeping comfort.