Is where you live getting under your skin?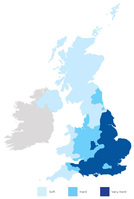 Could where you live affect your skin's health and even be a trigger for eczema? The answer could be yes, and it is all down to your tap water, especially if you live in a hard water area.
According to mapping studies, in the UK there are over 13 million homes situated in hard water areas. Studies have shown that hard water can be an eczema trigger, and that primary school children living in hard water areas are almost 50% more likely to have eczema than those living in a softer water area.

Tony Frost, an independent consultant with over 35 years experience in water treatment design, supplies and services, says 'It is thought that the calcium and magnesium in hard water cause dryness, which may lead to irritation, and households in hard water areas tend to use more soap and detergent, which may aggravate eczema sufferer's skin'.
You may not want to move house, but you could easily change your water quality by softening your water when it enters your home. Kinetico commissioned talkhealth to conduct an independent product trial and survey. Of the participants who had a Kinetico water softener fitted, 83% surveyed maintained that the water softener reduced the severity of their eczema and 91% experienced less itchiness.
Commenting on the trial, Julie van Onselen, Independent Dermatology Nurse, said: 'Eczema affects 1 in 5 children aged up to 11 years old and 1 in 10 teenagers and adults. It can be very distressing to the child, teenager, and adult with eczema and for their families. The most positive result from this trial is that people with eczema felt their skin was smoother and less itchy. The vicious scratch-itch cycle is often the hardest symptom to deal with, dry skin is itchy skin and itchy skin is scratched, which leads to damage and often a "flare-up" of eczema. Therefore, if skin is less itchy, scratching and skin damage will reduce and eczema 'flares' will reduce'.
To find out if your postcode is hard on your skin, and how a water softener can bring relief to you and your family, visit kinetico.co.uk/eczema.