Hendy Group maximises its business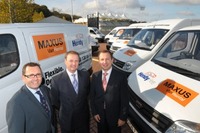 One of the south of England's leading automotive specialists, the Hendy Group, has strengthened its customer offering by introducing the LDV MAXUS Van Rental programme to its vehicle hire division.
Hendy Hire has taken delivery of 20 MAXUS vans with a further 30 vehicles scheduled for early next year.
Hendy's partnership with MAXUS Van Rental across its eight locations will provide businesses and the general public with a greater range of vans, minibuses and chassis cabs. All vehicles are available on short and long term rental terms.
The recent extension of its vehicle hire division reinforces the successful performance of the MAXUS range across Hendy's LDV dealership network. Paul Hendy, chairman of Hendy Hire, said: "Our aim is to provide customers with a diverse range of vehicles to meet every requirement and budget. The MAXUS vehicles offer a competitive price without compromising on performance and comfort."
Dmitry Ivaschenko, LDV's sales and marketing director, added: "The MAXUS range is going from strength to strength. Our partnership with Hendy Hire clearly demonstrates the brand's continual success."
To launch the new MAXUS fleet, customers are entitled to a week's free rental with every MAXUS van that is rented for one month. This offer is available until the end of 2008.
The Hendy group is a family-owned company selling both new and used cars and commercial vehicles across the South coast. The automotive specialist was established in 1898 and works with a variety of manufacturers. In addition to its Hendy Hire operation the group provides servicing and body repair and Hendy Parts service.
For further information on Hendy Hire and MAXUS Van Rental service visit maxus.com