Feature rich and fancy free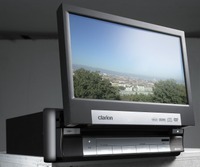 Having recently grabbed Europe's top gong in the in-car, audio-visual stakes - In-Car A/V Head Unit of the Year - Clarion is showing no signs of let-up in the development of cutting edge in-car entertainment, with the launch of its intuitive VRX578RUSB multi-media masterpiece.
Featuring DVD R/DVD RW, CD R/CD RW, MP3, WMA and AAC file playback, as well as USB and optional iPod control, the new VRX578RUSB is the easy-to-use answer for getting the most out of multi-media in-car.
A fully motorised 7" touch panel control glides effortlessly upon command from the elegant single DIN housing. Once open, a sensibly styled ergonomic control panel, makes speedy navigation of the range of audio and multimedia functions on offer a breeze, whilst Bluetooth connectivity makes it safer than ever to stream voice calls via a mobile phone on the move.
The VRX578RUSB's hideaway USB terminal allows for the link-up of portable MP3 players and subsequent access to 255 folders, each supporting 15,000 tracks, whether they're MP3, WMA or the iTunes-friendly AAC files.
Equipped with the industry's latest method of video compression, "DivX", the VRX578RUSB is more than capable when it comes to video playback.
Demonstrating Clarion's ongoing commitment to providing the most user friendly environment for in-car enjoyment, the VRX578RUSB utilises 2-Zone technology to keep all passengers entertained, for example, whilst front seated passengers enjoy audio, those located in the rear of the vehicle may enjoy either video, DVD or Television, via means of additional add-on head rest or overhead monitor/s.
To ensure the VRX578RUSB is also a serious player in the sound stakes, the new multi-media stunner boasts a two-band parametric equalizer, Z-Enhancer Plus sound customisation, Magna-Bass EX dynamic base enhancement - including separate Subwoofer volume control - and 4 x 50 watt MOS-FET amplification. A 24-bit D/A Converter delivers brilliant audio resolution and clarity along with a built-in High-pass and Low-pass filters to match the audio signal to each channel, creating superior acoustics in the subwoofer, front and rear speakers.
The VRX578RUSB is available via Clarion appointed dealers across the UK, with a typical selling price of £499.00 – or £449.00 for members purchasing through Club Clarion - and for more information on your nearest stockist, as well as full details on the multimedia masterpiece, visit clarion.co.uk, or clubclarion.co.uk.