Finsk shoes launch at Topshop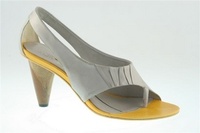 Julia Lundsten is fast emerging as one of the most promising and talented shoe designers, with her label FINSK, launched in 2004. Finnish born Lundsten who has been dubbed the Eames of footwear, has established herself as a designer with a strong vision and unique, directional style.
Lundsten graduated from London's Royal College of Art in 2003 and won the prestigious Manolo Blahnik Award two years running. 'Exquisite, divine and perfect' are just some of the words Blahnik has used to describe her shoes.
With an architect father and interior designer mother, Lundsten has cultivated an eye for design, clearly reflected in her work. Some of her biggest inspirations have derived from natural architecture, including buildings and furniture details as well as structures found in nature, such as on leaves and insect's wings. Likening a shoe to that of a chair, Lundsten says the heel and sole are the chair legs, with the upper, the seat.
Spring/Summer-08 collection, "Hylea", is inspired by constructivism and Russian futurism. It features simple, geometric shapes, such as square toes and angular pleats and fan detailing with graphic and unconventional colour blocking. Contrasting raw edges and neatly pleated details create a modern overall look. The main colours include off-white, warm-grey, blue-grey, taupe and apple green with highlighting colours such as purple and yellow.
A new detail for the SS08 heels is natural purple wood partly painted with geometric shapes to create a contrast between the grain and texture of the wood with the highly polished painted surface.
Lundsten was awarded the Young designer of the year award in Finland in October. It is the first time the award has been granted to a fashion designer. To read more about the award and the selection criteria, please go to:
FINSK shoes are sold in selected boutiques in Antwerp, Helsinki, California, London, Rome and Tokyo. The A/W 07/08 collection is currently available for the first time in London, exclusively in Topshop, Oxford Circus.
FINSK is also featured alongside Sergio Rossi, Pierre Hardy and Rupert Sanderson in the new "shoe bible", New Shoes (published by Laurence King), which showcases some of the most exciting and innovative contemporary footwear designers from across the globe.
For more information, visit Finsk.com.