'Pirate' treasure hunt to find buried Volvo XC90 ends in the Bahamas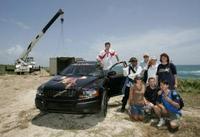 Volvo Car's successful, multi-media 'pirate' treasure hunt¹ to find the one-of-a-kind Volvo XC90 V8 that was buried as part of Volvo's partnership² with Disney's Pirates of the Caribbean: Dead Man's Chest, has reached a dramatic conclusion on an exotic island in the Bahamas.
With over a million website hits and over 112,000 people globally, including 28,000 from the UK, taking part in Volvo's challenging two month on-line treasure hunt, just seven participants – one each from UK, Japan, Spain, Austria and three from America – made it through to the final and were flown to the Bahamas to complete a two day challenge to decipher the last clues and find the exact location of the buried Volvo XC90 V8.
A slide show and an action-packed film of the final hunt for the buried car is now available on-line in a series of three 'web episodes' at www.volvocars.co.uk/thehunt.
The first person to find the XC90 V8³ (David Hutz from Virginia, USA) won it. But Volvo had a big surprise for the remaining finalists – they all won a Volvo, too!
The British finalist, Karl Lloyd, from Surrey said: "When I received the call from Volvo saying I had won a trip to a mystery location, I was certainly surprised, but when we arrived in the Bahamas, I was speechless. Then, when I thought I'd dropped out of the running, I was very disappointed – but when we found out that all the runners-up would receive a new Volvo XC90, I was absolutely flabbergasted! Thanks to everyone at Volvo for making the whole experience both wonderful and unforgettable."
Commenting on the success of the campaign, Volvo Car UK's managing director Hugh Reid said: "This treasure hunt has been one of the most unusual and successful film promotion tie-ins by a car company. Our dealers reported a massive upsurge in showroom visits, traffic on our website doubled and we also had participants blogging, sharing clues and even selling clues and copies of the treasure hunt map on eBay!"