Hereford couple have grand designs on new home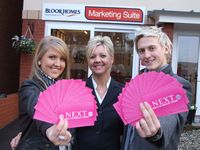 A Hereford couple got more than they bargained for when they moved into their brand new house at Bloor Homes' Venns Park development last week. Not only had they finally got the keys to their dream home, they discovered that they'd won £1,000 of NEXT vouchers to spend, making it even more special.

The prize draw was open to anyone visiting Bloor Homes Western developments from September until the end of November and was launched to celebrate the opening of two showhomes – at Kington Park in Hereford and at Monk Meadow Quay in Gloucester – which had been styled by NEXT Home - one of the country's most successful high street retailers.

Sophie Pugh and Jamie Price had been househunting for a while for their first home together and had fallen in love with the three-storey townhouse at Venns Park which they purchased the property off plan in May. While sitting in Bloor's Marketing Suite one day waiting to firm up some details with Sales Advisor Jan Bromage, Sophie casually filled in a free prize draw entry form to win the vouchers but with all the excitement about their new home, they soon forgot all about the competition.

"We're both local and had looked at lots of houses in the area, but this one ticked all our boxes… except one - it wasn't ready," said Sophie. "However, this turned out to be great for us as it gave us the opportunity to choose the bathrooms, kitchen and carpets we wanted so we were able to put our stamp on the property from the start. Winning these NEXT vouchers is the icing on the cake for us as it means we'll be able to buy lots of the luxury items from NEXT Home interiors range that we otherwise wouldn't have been able to afford."

Sophie added: "Neither of us had given a second thought to the prize draw so it was a lovely surprise to find out we had won and the timing couldn't be better. We've just moved into our fantastic new house in time for Christmas and now we can treat ourselves to some stunning accessories to make our home even more special."

Jan said: "This was a popular prize draw and we had dozens of entries from each site so I'm absolutely delighted that customers from Venns Park won. Sophie and Jamie are just settling into their first home together so are having to set up from scratch and I know they really appreciate the extra funds that will allow them to buy the added extras that can help them personalise their home even further. My colleague Jo Smith and I, as well as everyone at Bloor Homes, wish them a happy future together at Venns Park."

Bloor Homes has a range of properties for sale at the prestigious development, located off Aylestone Hill in Hereford, including 3-, 4-, and 5-bedroom homes starting from £299,950.

Some of the plots may be available on Bloor Homes' Part-Exchange scheme, aimed at those who need to sell their current property prior to purchase. The scheme effectively eliminates the need to hire estate agents, and deal with viewings, making the process as smooth and stress-free as possible.

Alternatively, buyers could benefit from Bloor's HomesStart2 scheme which offers them the opportunity to initially pay just 85 per cent of the property price, with the remaining 15 per cent payable at any time within the first ten years, when the house is sold, when a purchaser's financial circumstances improve, or simply by remortgaging at the end of the ten year period. This 15 per cent will be calculated at the current market value at the time it is repaid.

If you would like further information, visit the Marketing Suite and showhome which are open daily between 10.00am and 5.15pm. Alternatively, visit bloorhomes.com.