Nissan stars at CV Operator Show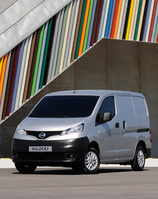 Anyone who's anyone in the world of commercial vehicles will be heading to the CV Operator Show next month - and Nissan looks set to be the star attraction.
With a wide range of the company's class leading commercial vehicles on display, Nissan will be highlighting the breadth of abilities offered by its hardest working models. Whether you need the latest pick-up, a tipper or simply the most space efficient van in the business, the Nissan stand will have it all.
Having already been named What Van? Van of the Year 2010, International Van of the Year 2010 and ITM Van of the Year 2010, Nissan's NV200 will be a must-see attraction at the show. Not only is it the largest capacity carrier in its class, but priced from only £12,205 and with CO2 emissions of only 137g/km, this is one commercial vehicle that's sure to help the bottom line of any business. For buyers who need to carry passengers as well as kit, the NV200 Combi will also be taking centre stage.
While all Nissan Commercial Vehicles are rugged, for those who require true go-anywhere carrying capabilities, the latest revised Navara and Pathfinder Van are a must-see. Sharing the comfort, luxury and quality of its SUV relative, the Pathfinder Van comes with either obscured glass or a full panelled body and is available from only £21,682.
Flexing Nissan's commercial vehicle muscles even further are some special Cabstar models. The CTE Cabstar Platform is fitted with a large-scale 'cherry picker' for getting people up to difficult to reach places, while a Caged Tipper version of the tough Nissan LCV will also be strutting its stuff.
Adding the finishing touch to the Nissan CV Operator Show stand will be the Primastar. This long standing favourite of the discerning LCV driver is available in Short and Long wheelbase forms, while a Crew Van version will draw in the crowds at the NEC.
Nissan's LCV sales and marketing director, Francis Bleasdale comments: "We're very proud of our ever-increasing commercial vehicle range and look forward to getting the chance to show it off once again. If you've never experienced the strength in depth of our hard working range, be sure to pay us a visit at the CV Operator Show."