Nissan extends CV network in key locations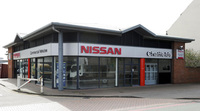 Nothing works harder than Nissan's Commercial Vehicles – but their drivers have never had it so good. Four new Nissan CV centres have now opened their doors in the UK, adding to the already well established network of 62 sites.
Sitting in the heart of the Midlands, a new state of the art facility at Chatfields Birmingham has become Nissan's first dedicated one-brand Commercial Vehicles centre. Kitted out to offer 'truck' operator levels of support as well as sales and service support for Nissan's entire Commercial Vehicle range, Chatfields joins the growing number of Nissan franchises opening their doors across the UK.
With an award winning line-up that's recently grown to include the innovative NV200 compact van, the new dealership will be handling the most capable CV models in the business. With everything from the Pathfinder Van to specialist vehicles including caged tippers and refrigerated models on offer, few rivals can offer such a broad choice.
To help cater for the needs of CV buyers across the country, Nissan has also launched three other new additions to its network this month. Imperial Hull is the largest Commercial Vehicles dealer group in the UK and now offers its sales and service expertise to Nissan CV customers.
In South Wales, Swansea Truck Centre has also joined the Nissan family. Part of the Watts group of companies, the new dealership offers flexible 24 hour opening and 20 years experience in the CV industry.
The final new addition to the Nissan Commercial Vehicle network is Crossroads of Rotherham, an organisation that prides itself on achieving success through the simple philosophy of providing customers with a first class level of local service.
Nissan's LCV sales and marketing director, Francis Bleasdale comments: "With a growing product line-up of class leading Commercial Vehicles, we need the widest possible dealer network to offer the complete package to our customers across Britain. We're delighted to introduce our four new centres to the fold, and especially proud of the Chatfields Birmingham site which offers the first dedicated Nissan CV centre in the UK."