Express Insurance motocross photography competition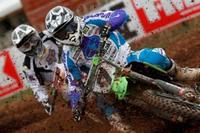 With just over a month to go, Express Insurance is urging budding photographers to enter their competition to find the UK's best motocross related photograph. With over 250 entries already submitted, what are you waiting for?
The competition closes on 10th October and the winner will receive £250 worth of KTM gear and an exclusive one-to-one photography lesson with renowned motocross photographer Ray Archer.
To enter, simply log onto Facebook and become a fan of Express Insurance UK at facebook.com/ExpressInsuranceUK before uploading their photographs to the fan page.
The theme of 'Motocross' encompasses every element of the sport, photography submitted could include a picture of a static bike, a shot of a professional rider in action or even a creative photo of a pair of gloves!
Having looked at the entries Ray said, "There is a wealth of talent out there and it will be a tough competition to judge. The images are conveying all the elements of this fantastic sport and I'm looking forward to spending time with the winner."
The runner-up will receive a Flip HD Video Camera and a pair of tickets to a round of their choice at the 2011 Maxxis Motocross championships. Third prize is a pair of tickets to a round of their choice at the 2011 championship.
Once the competition closes a shortlist of 5 potential winners will be chosen via a public online vote. In addition to being in with a chance of winning the top prizes, all 5 finalists will receive a signed copy of Ray Archer's book and will be invited to attend a day with Express Insurance at the Dirtbike Show (Stoneleigh Park, 4-7th November) where they will meet the judges before the winner is announced.
For full terms and conditions and to enter the competition visit facebook.com/ExpressInsuranceUK.