Regent opens Volvo dealership in Bishop's Stortford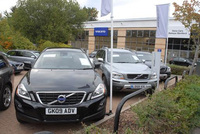 Regent Automotive Group has opened the doors of its latest dealership, Volvo Cars Bishop's Stortford.
The new one-acre site at Stortford Hall Industrial Estate on Dunmow Road features the full range of exciting Volvo models, including the stylish new S60 saloon, plus a huge choice of genuine approved used Volvo models.
Naturally, customers at Volvo Cars Bishop's Stortford will also benefit from full after sales support, including MOTs, bodwork repairs, parts and servicing carried out by manufacturer-trained technicians using the very latest workshop facilities and engine diagnostic technology.
The new site has created 24 new jobs across its sales, service, parts, administration and management functions.
Tracey Perry, Managing Director of Regent Automotive Group, said: "We've been hard at work over the summer to bring this dealership to life and are looking forward to becoming part of the local community.
"It's an exciting time for Volvo with the launch of exciting new models, and for Regent Automotive Group as we look to grow the business."
Regent Automotive Limited currently operates four dealerships in the Capital, under the Volvo Cars London name (Colindale, Chiswick and two in Central London). It also has a fifth site in Hatfield, which is the base for its International and Corporate Sales businesses.
Volvo Cars Bishop's Stortford will feature a 6 bay workshop offering MOT and servicing, plus enough room outside to display 25 used cars. Inside, the showroom will accommodate 7 new vehicles and a customer waiting area with free wi-fi, a plasma TV and refreshments.
For more information, visit volvocarsstortford.co.uk.