Baby-G concession to launch in Topshop in Oxford Street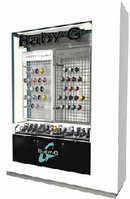 Baby G are thrilled to announce the launch of its brand new concession in the flagship Topshop store on Oxford Street.
The concession, which will be arriving in Topshop on the 4th October 2010, will hold not only the latest Baby G styles, but will also carry watches from the Pixie Lott and Ke$ha partnerships.
Ke$ha has recently been appointed as Global Brand Ambassador for Baby G. She comments; "I think the Baby-G brand is amazing it's stylish, innovative, durable and affordable. The bright colors and metallic finishes really compliment my moods and personality. I have some fun ideas for my watches and I am so thrilled that I am the first worldwide female artist to be given the opportunity to design my very own Baby-G!"
Pixie, who is the current UK brand ambassador adds; "I had the pink Baby G when I was in primary school, so I've been wearing them for years. They're really funky. They do so many colours, so you can match them with any outfit and they spice it up and make it look fresh. I think they're special because they're so girly and fun."
Tim Gould, Head of Marketing for Casio UK, comments, 'We are thrilled to be launching the Baby G range in Topshop's flagship Oxford Circus store. The store epitomises youthful fashion and is a Mecca for Baby G's key demographic: image conscious teenagers and young women who believe in style and substance. Therefore, it is the perfect platform for us to reach key consumers with our bold, directional and pretty tough Baby G watches."
Baby G are committed to remaining at the forefront of cutting edge watch design. They team inimitable style with superior functionality and are set to rock the Topshop accessories floor this autumn with their pretty tough credentials.