3663 goes two-pedal with new DAFs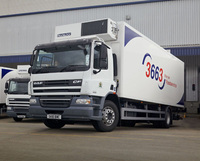 The UK's leading foodservice company, 3663, has put 46 DAF CF65s into service fitted with the AS-tronic automated transmission.
The two-pedal 18 tonners have replaced the entire truck fleet based at the 3663 depot in Nottingham from where they are delivering to food outlets across the East Midlands and as far north as Leeds, each averaging around 60,000 kilometres a year.
3663 are continuing to specify automatics to reduce driver fatigue on what is an intense multi-drop operation with many stop-starts. Improved safety was also a factor along with a requirement to achieve better fuel efficiency across the fleet and 3663 will be carefully monitoring the fuel performance of the CF65s.
The DAFs meet the latest environmental standards in line with 3663's strong stance on sustainability. In 2003, 3663 was the first foodservice company in the UK to achieve ISO14001 environmental certification in the transport and storage sector. Power is from the 6.7 litre PACCAR GR165 engine delivering 250 bhp (184 kW) and which is EEV rated. This is matched to a six speed AS-tronic automated transmission.
The 8.25 metre long bodies on the trucks are by Gray & Adams and are designed to carry both frozen and chilled products, the proportions of which can be altered by means of a movable bulkhead. They are unusual in being able to handle both cages and pallets as this offers greater flexibility in terms of making deliveries of both mixed products and bulk single product loads.
Prior to entering service the 3663 drivers underwent a one-day familiarisation course on the new trucks. This was supported by DAF, Gray & Adams and the suppliers of the ancillary equipment fitted, including Dhollandia – whose retractable tail lifts are used, the two refrigeration equipment makers, Frigoblock and Govet, and Microlise whose telematics have been fitted to the new fleet to improve fuel consumption and fleet visibility, monitor the refrigeration temperature, and improve driver safety and driving style, which means a reduction in CO2 and maintenance costs.
Graham Rennie, 3663 Director of Fleet, said: "I was very pleased by the high level of support shown by DAF and the equipment suppliers both in the lead-up to the arrival of these trucks and on the familiarisation day. Driver reaction has been very positive and we are now looking forward to many years of cost-effective, environmentally-friendly and productive service from the trucks."
The trucks were supplied through Edinburgh dealer Lothian DAF.