Home ownership in Corby made easy with Redrow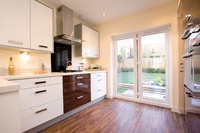 Step onto the property ladder in Corby with a stylish, affordable home of your own with help from Redrow.

The award-winning housebuilder is offering home buyers the chance to snap up a brand new home at Oakley Vale in Wren Close, Corby, for a fraction of the cost with its 'easi:buy' scheme.

It allows customers to defer paying 15% of the purchase price of a brand new home for up to 10 years.

Pauline Turnbull, sales director for Redrow Homes (Midlands), explained: "At Redrow we understand how frustrating it can be either living with relatives or spending 'dead money' on rent, when what you really want is a home of your own. With the help of our 'easi:buy' scheme you can purchase your dream home at a realistic price.

"Raising a large cash deposit can be difficult, particularly if you are paying rent while you're trying to save. But with 'easi:buy' you should only need a relatively small deposit, making homeownership more affordable."

For example to buy a two-bedroom 'Bala' style home, on the market at £99,995, customers would only need to apply for a mortgage of £79,996; while for a three-bedroom 'Fairwood', priced at £137,950, they would require a mortgage of £110,360.

The outstanding balance can be repaid at any time over the 10 years when the purchaser has more funds available or when they come to resell.

The 'easi:buy' payment is subject to terms and conditions and the deferred element is paid back at market value at the time of payment, which could go down as well as up.

"'Easi:buy' is available on selected properties for a limited time only, so I would urge anyone thinking of moving to a brand new home, particularly those getting onto the property ladder for the first time, to visit Oakley Vale right away. Our friendly, experienced sales staff will explain how the scheme works and make everything as simple and as straight forward as possible," Pauline commented.

Close to the countryside of Rockingham Forest, Oakley Vale offers its residents the best of both worlds with opportunities to enjoy the great outdoors close at hand and the amenities of Corby town centre just moments away.

For more information, visit the show homes, open daily from 10am to 5.30pm.