DAFs are made to measure for Cormar Carpets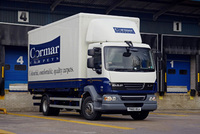 With over one million customers a year to supply, Cormar Carpets runs a highly intensive nationwide delivery operation using swap bodies for efficiency and flexibility.
The Bury based company operates a five year vehicle replacement policy and has just taken delivery of 12 new DAFs under its rolling annual fleet replacement programme. The vehicles are covered by a Repair and Maintenance contract through PACCAR Financial and were supplied by Preston based dealer Lancashire DAF.
Delivery of the trucks was timed to meet the increase in demand for carpets leading up to Christmas. Those being replaced will not leave the fleet until January and this planned overlap enables Cormar to optimise its fleet size in line with the high peak of seasonal demand.
Seven of the trucks are DAF LF55 rigids at 15 tonnes gvw with the GR165 engine at 220 bhp (165 kW). The other five are CF75 drawbars powered by the PR engine at 310 bhp (228 kW) and with the drawing unit plated at 18 tonnes and the trailers at 12 tonnes.
Cormar has had one each of the LF55s and the CF75s fitted with the AS-tronic automated transmission and has installed a telematics system to measure the fuel efficiency of these versus the manuals. The system will also monitor driving styles to identify instances where these too might adversely affect fuel consumption. From similar models already in service Cormar is achieving 10.1 mpg from its CF75s and 12.5 from its LF55s.
Both the trucks and the trailers are designed to carry six metre long demountable box bodies produced by PPS of Radcliffe, allowing total interchangeability between them. Wheelbase Engineering of Blackburn fitted their 'Straight Lift' demount system to both the trucks and the twin-axle trailers, which they also manufactured and which use a VBG coupling.
Demounting can be carried out quickly using air bags to lift the body allowing the legs to then be manually swung into place and safely secured. Each body is also fitted with an electrically powered internal winch to assist in unloading at the customer's premises.
This swap body system adds a high degree of flexibility to the distribution operation allowing fast turnround at the Lancashire manufacturing site and at the 12 satellite distribution points around the British Isles, which Wincanton operate on behalf of Cormar.
This is particularly important for the CF75 drawbars as they are double-shifted, covering around 160,000 kms a year. At night they operate with the trailers as trunking vehicles from the factory to the satellite depots. During the day they make local deliveries and run solo as this enables them to cope more easily with deliveries into congested high streets. When the body is empty the drawing unit can then return to the depot to swap it for the full one off the trailer and at the end of the day it returns to the factory with two empty bodies for re-loading.
The entire operation is based on carpets being supplied cut to an exact length as required by the retailer for their customer. This significantly reduces the stocks that retailers need to hold but it requires that Cormar can supply ex-factory within 48 hours. A typical delivery run will involve 12 drops with between 50 and 60 lengths of carpet being delivered.
"Such an intensive distribution operation needs high levels of vehicle availability, reliability and service back-up," says Logistics Manager, Craig Marshall. "Working with our logistics partner Wincanton, we are able to give each retailer a precise delivery slot and can monitor adherence to this by equipping drivers with a PDA, which also enables us to obtain electronic proof of delivery. This is helping us to achieve a 98.8% on-time delivery performance.
"But we can only hit these targets consistently if our vehicles are reliable and if routine vehicle inspections and servicing can be carried out to fit with our schedules. We use the DAF dealers local to each depot for this work, which is normally done out of hours to suit our needs. And if problems occur on the road, we can also make use of DAFaid to obtain fast assistance."