BCA sell limited edition Pink Passion smart for charity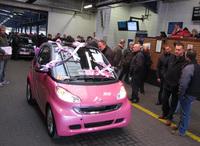 Leading vehicle auction specialist, British Car Auctions helped raise hundreds of pounds for charities involved in the fight against cancer through the sale of a limited edition Pink Passion smart fortwo car. The event was organised by BCA and car dealer Fred Andy.
The sale raised money for the Royal Marsden Cancer Campaign, a charity which funds research into cancer cures and respite treatments, and Breast Cancer Research.
The sale took place late last month at BCA Blackbushe and raised £500 for the charities. In addition BCA donated £250 and further fund-raising by Mr Andy generated £750, meaning £1,500 was raised in total.
BCA spokesman Tim Naylor commented "We were delighted to work with Fred Andy to help raise this considerable sum to be shared with the Royal Marsden Cancer Campaign and Breast Cancer Research."