Pocket sized shopping with French Connection app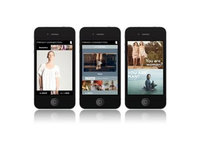 A shopping experienced likened to flicking the pages of a glossy magazine has been launched as an app on the iPhone by French Connection and created by mobile technology strategists, Answer.

Created in the Cloud, the consumer App enables fast content download, without waiting whirly wheels, to showcase the entire French Connection range of products. Consumers have the choice to browse the latest fashions, consult a 'look book' for outfit combinations, instantly buy, plus converse digitally with friends about the clothes via seamless integration to Facebook and Twitter.

"Mobile commerce was the next step in our multi-platform digital strategy," states Jennifer Roebuck, Digital Director at French Connection. "The cloud-based App model from Answer means that all data is in one place to power real-time functionality for our customers and overcome potential integration issues. For example, someone can start browsing online on their computer in the morning, try on in store at lunch and then checkout on their mobile to avoid queuing at the tills."

"Franchise operations in fashion and retail mean that you need to be ready to replicate digital marketing across geographical territories. The cloud-based App helps with this providing a business hub as a central point of data control," states Steve Dobson, Head of Design and Innovation at Answer. "There are also cost efficiencies for businesses to opt for App development in the Cloud. With no upfront costs of infrastructure set up, budgets are wrapped into a planned service on a paid for monthly basis."

Mobile has gone beyond being a simple marketing and sales promotion tool to now increasing brand loyalty and revenue by giving consumers a consolidated choice of channels to explore and services to interact with. Social media conversations in Facebook and Twitter also mean that websites and now mobile Apps need to integrate to encourage digital conversations. For example, the French Connection App enables users to create a birthday wish list and put it on Facebook and create picture conversations about potential or recently made purchases.