Mini video camera ideal for filming sports and activities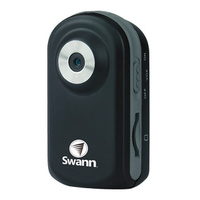 SportsCam Mini Video Camera is ideal for filming all sports and recreational activities. Housed in the shockproof and waterproof case the SportsCam is built for the adrenaline junky in all of us. With 640 x 480 video and excellent sound the SportsCam will record your greatest sporting moments, with up to 5 hours recording time. The Swann SportsCam waterproof camcorder comes with a myriad of mounting options, including Velcro straps, sport-clip, double clipper, and multi-clip.
Upload your videos to your favourite sharing sites such as youtube, facebook and myspace. The tiny SportsCam also doubles as a webcam for use on messenger services like skype, MSN and yahoo. Video is recorded to Micro SD card (not included) and transferred to your PC via USB connection. The inbuilt lithium-ion rechargeable battery is charged via PC USB and has up to 2.5 hours of recording time per charge.
The SportsCam is available now at SRP £99.99 inc. For more information, visit swann.com.au.