High powered DAF for Arden Wood Shavings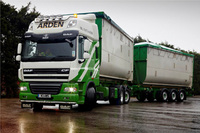 Optimising journey times and overcoming wind resistance when carrying high sided containers are the main reasons behind Arden Wood Shavings choosing the highest power rating available in its new 44 tonne DAF drawbar outfit.

To promote its strong corporate image, the company has also created a very striking look for the truck by specifying the DAF Space Cab with 'skylights' faired into the roofline and foglights set into the bumper. Alcoa polished alloy wheels on both the DAF and its trailer and a personalised plate complete the outfit's distinctive appearance.

Based near Solihull, the animal bedding specialist collects its raw materials of sawdust and wood shavings from sawmills around the UK. A regular run for the new truck is a journey involving long stretches of exposed road subject to strong winds. With a high-sided 50 cubic metre box on both the truck and its trailer, wind resistance can be significant.

To counter this, Arden Wood Shavings has specified the 510 bhp (375 kW) power rating of the 12.9 litre MX engine in the truck, which is the highest power rating offered by DAF. This not only helps deal with the wind issue, but also ensures that good average speeds can be maintained to optimise journey times without compromising on fuel consumption.

The truck is a CF85 6x2 FAN model featuring a self-steering rearmost axle. The improved manoeuvrability that this provides is appreciated by driver Dean Hewston when collecting from sites where access is restricted.

The DAF runs with a tri-axle trailer built by A Couldwell & Sons of Sheffield and plated for 24 tonnes. AITB roll-on, roll-off hooklift equipment with a 20 tonne capacity is fitted to the DAF and is designed to be able to lift the boxes onto and off both the drawing unit and the trailer. This is made easier by the fully retractable VBG coupling that enables truck and trailer to be brought together so that the hooklift system can reach beyond the trailer to lift boxes onto or off it more easily.

To avoid the risk of overloading and because some collection sites do not have a weighbridge, the DAF is fitted with an axle load monitoring system. Fitting a 9 tonne front axle also adds a further margin against inadvertent axle overloads.

Dean Hewston spends at least a couple of nights in the Space Cab and is reported to be pleased with the good working and living environment that it provides. Whilst at work he enjoys the comfort of a luxury air-suspended seat, air conditioning and a high quality radio/cd player. There's ample storage space for his personal belongings and a fridge. And he enjoys a good night's sleep in the good-sized bunk.

The AS-tronic 12-speed automatic transmission also means no gear changing or clutch operation, reducing fatigue and leaving Dean to focus on the road and other traffic. And specification of the MX engine brake results in less need to use the service brakes on downhill runs, which also cuts fatigue and saves brake wear.

The truck was supplied through Imperial Commercials of Halesowen and is the third DAF to be supplied by them into the Arden Wood Shavings fleet in recent months, with a fourth – another CF85 drawbar – soon to be delivered. Imperial will carry out routine servicing of the new truck overnight or at weekends to support its customer's operational needs under a six-year Repair and Maintenance contract.