Vauxhall Movano is top choice for British Gas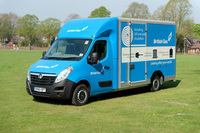 British Gas and Vauxhall have signed a fleet deal for 140 Vauxhall Movano vans. The bespoke platform cab Movano vans join the UK's leading energy supplier's 10,500 strong fleet.

British Gas's latest acquisitions are all powered by Vauxhall's frugal 2.3-litre 125ps engine and are specified from factory with L3 long wheelbase to accommodate the energy provider's specialised equipment demands. Each vehicle is painted in the Sky Blue of British Gas.

The specialist bodywork was done by Vauxhall-approved converter Trucksmith and features a low-floor polycarbonate Luton body with a single three-dimensional air management system above the cabin for improved aerodynamics and fuel consumption. This particular bodystyle, called KneeHi, additionally comes with a high-grip rubber coating to make entry and exit into the vehicle easier and safer for British Gas engineers.

Colin Marriott, General Fleet Manager at British Gas Centrica, said, "We chose the Movano because it's one of the most fuel-efficient and reliable light commercial vehicles around. The environment in which they operate is not only specialised but demanding too, and we needed a vehicle that would carry and accommodate the load without any trouble.

"Of all the other makes and models that we looked at, the Movano best met all of our requirements. We chose the L3 wheel based body style to give sufficient load volume and payload as well as allowing low access. We were also impressed with the Movano's interior, which provides plenty of internal storage space for our engineers and is comfortable too."

Richard Collier, Vauxhall's National Commercial Vehicles Sales Manager, said, "It is fantastic to see one British brand partner with another prominent British brand, and we at Vauxhall are very much looking forward to partnering British Gas."

Ordered on a five-year operating lease to accommodate new business growth, the 140 customised vehicles will be used specifically for the company's growing loft and cavity wall insulation business.

Mr Marriott added, "While it is still early days, the Trucksmith bodywork has had a positive effect on fuel consumption. For British Gas, which looks after 12 million British homes and one million businesses, choosing the right fleet vehicles is imperative in ensuring a good service to customers."

British Gas engineers and energy experts make over 10,000 service checks a day. The company also helps its customers save energy and money by providing a large range of energy-efficient products and services, such as insulation, smart metres and solar panels.