The ultimate summer getaway at Atlantis, The Palm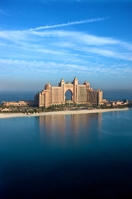 Atlantis, The Palm offers something for all the family to enjoy this summer, from an incredible lagoon filled with 65,000 marine animals to 17 fantastic restaurants.
Starting from only £147 (AED 895*) per room per night from 8 May to 30 September 2011, this sizzling summer rate also includes lots of extras such as unlimited complimentary access to The Lost Chambers and Aquaventure waterpark, preferential rates to swim with the dolphins at Dolphin Bay and a complimentary daily shuttle service to various shopping malls.
A complimentary afternoon session is available for all child and teenage guests at Atlantis Kids Club (3 – 12 years) and Club Rush (an entire part of the resort dedicated to teenagers – a first in Dubai). What's more, Atlantis has introduced exciting new summer camps, with everything on offer from scuba diving, Junior Lifeguard Training and behind-the-scenes educational tours of the vast marine life to pizza making, a variety of sports and lessons in DJ spinning. Meanwhile, parents can relax in the new ShuiQi Spa & Fitness which, as part of an exclusive partnership for three years, is the only spa in Dubai to offer Shiseido treatments, including new slimming and anti-cellulite treatments for this summer.
To take advantage of the special summer rate, book online at atlantisthepalm.com. Emirates (emirates.com/uk) offers a return Economy Class fare from London Gatwick to Dubai from £512 per person. Valid for travel 4 May – 15 July and 11 August – 9 December 2011.
Unlimited complimentary access to Aquaventure and The Lost Chambers
Slip and slide through the world of Aquaventure, with unlimited complimentary access to the region's largest water park as a hotel guest. Awarded 2010's Middle East's Leading Water Park by the World Travel Awards, Aquaventure boasts 18 million litres of fresh water used to power seven thrilling waterslides, a 2.3 kilometre river ride with tidal waves and pools, water rapids and white water chargers, the ultimate place for fun and excitement.
Hotel guests can discover 65,000 marine animals with unlimited complimentary access to the underwater world of The Lost Chambers. Touch tanks filled with starfish and pencil urchins, both found in local Arabian waters, and horse shoe crabs, the spiders of the sea, allow guests to touch, feel, interact and learn about sea life. Special exhibits are dedicated to different sea creatures, such as the delicate Moon Jellyfish, busy lobster and glittery anchovies – each fascinating to watch and with a story to tell.
Preferential rates at Dolphin Bay
Have a once in a lifetime experience at Dolphin Bay where the options of the Dolphin Encounter, Dolphin Adventure and Royal Swim give swimmers and non-swimmers an opportunity to get up close to the dolphins. Spanning 4.5 hectares, this state-of-the-art dolphin education and conservation centre boasts an unparalleled habitat. Enjoy preferential rates for the Dolphin Encounter (shallow water interaction) experience, as a hotel guest when the summer offer is booked starting from £91 (AED 550) per person, from 9 May to 30 June 2011 and from £81 (AED 495) per person, from 1 July to 30 September 2011. Non hotel guests enjoy a summer rate of £98 (AED 595) per person including a complimentary day access to Aquaventure. If you'd like your moment with the dolphin captured on camera you can with Dolphin Photo Fun, resort guests enjoy preferential rates of £44 (AED 265) per person and receive one complimentary photograph. For non hotel guests, enjoy Dolphin Photo Fun at £70 (AED 425) per person including complimentary access to Aquaventure.
Atlantis Kids Club and Club Rush complimentary afternoon session and new summer camps
The Atlantis Kids Club (3 – 12 years) offers a daily supervised activity programme focusing on adventure, fun and exploration through group play, with morning, afternoon and evening sessions. Children can experience the 'command centre' with the latest video games, tackle two climbing walls, watch a movie underwater or create an arts and crafts masterpiece.
For the summer, kids ages 3 to 12 years old staying at Atlantis are treated to one complimentary afternoon session per stay, from 2.00pm to 6.00pm. Plus, the Atlantis Kids Club is bringing more fun and adventure this summer with two action packed Summer Camps. Kids aged 8 to 12 years can participate in the five day Atlantis Aqua Camp where they get to go behind-the-scenes and learn about the vast marine life at Atlantis. Priced at £411 (AED 2500) per child, this camp will be sure to entertain and inspire and kids can even try their hand at scuba diving with the Padi Certified Dive Centre. Atlantis Adventure Camp, priced at £247 (AED 1500) per child offers kids aged 3 to 12 years the chance to participate in an action-packed 5 day programme that will be filled with exciting activities from making pizza at Ronda Locatelli, to creating works of art out of sand. For our youngest guests (children under 3), a full range of professional nannies equipped with endless activities to assist with in room care are available.
Club Rush caters to teens by offering the ultimate hang out experience. Teens (ages 13 – 18years old) will have an opportunity to escape to a fully supervised 'No Kids or Adults' environment – a first in Dubai. They can watch movies on the big screen, grab a snack or smoothie from the bar, make use of the latest games and consoles, stay connected in the internet lounge, or listen to the latest tunes while dancing the night away. With an international crew of counselors to keep teens busy throughout the day; it's the perfect place to chill out with new friends.
For the summer, teens ages 13 to 18 years old staying at Atlantis are treated to one complimentary Early Rush admission per stay, from 2.00pm to 6.00pm. New this summer are the "AAA" Summer Camps at Club Rush offering summer programmes and workshops. Priced at £247 (AED 1500) each, the AAA camps offer something for every teen, a great way to beat the heat and a chance to make new friends. Camp Aqua will involve all things water including the Junior Lifeguard Training, Padi Dive Centre Experiences and Aquaventure visits. With so many culinary delights to experience at Atlantis, Camp Appetite gives foodie teens the opportunity to create some food masterpieces of their own under the watchful eye of some of our resident chefs. Finally, Camp Adventure is the chance to have Atlantis as a playground, sports, photography and learning some DJ 'spinning' skills are just a few of the items on the agenda.
17 restaurants to choose from
After a long day of fun-filled activities and adventure, enjoy a culinary journey around the 17 restaurants available at Atlantis, The Palm - from the award-winning restaurants- Nobu, Ronda Locatelli, Ossiano and Rostang-The French Brasserie to the sumptuous and award-winning steakhouse Seafire and traditional Arabic restaurant Levantine. Whatever your taste is, Atlantis has the dining experience to suit every occasion.
New ShuiQi Spa & Fitness experience
ShuiQi Spa & Fitness presents a memorable experience, awakening the senses in an awe-inspiring and serene water surrounding. Set over two magnificent floors within the Royal Towers of Atlantis, ShuiQi provides a sublime range of exclusive treatments, bathing options, traditional and water therapies. Walk the natural stone steps along streaming water pathways to one of the 27 treatment rooms or discover the secluded Royal Spa Suite. Each guest is welcomed warmly and guided into a tranquil place of serenity, opulence and pure indulgence.
New treatments have been introduced for the summer - if you are looking to tone your body for the summer, the Super Detox Treatment Ultimate Ionithermie will work on the thighs and tummy to combat cellulite and firm the skin. Results are visible after one session, with sleeker contours, smoother, firmer and tighter skin and a reduction in the appearance of cellulite. This treatment is priced at £78 (AED 475) and lasts for 90 minutes. While, the one hour Purifying Seaweed Wrap offers a detoxifying, slimming and energy boosting treatment and the envelopment begins with a gentle massage of Luminary Powder and warm Botanical Body Milk to boost circulation. A natural seaweed wrap will kick start and maintain the elimination of toxins and waste, with Intensive Draining essential oils of cinnamon, cedar, Turkish rosemary and ginger to help stimulate the venous circulation and promote elimination of toxins. This essential body treatment, to support a detox or weight management program, is priced at £69 (AED 420). Looking at targeting cellulite and local water retention? Help stimulate the senses and refine the silhouette, by opting for the one hour Shiseido Body Sculpting treatment priced at £107 (AED 650) or the indulgent two and a half hours Shiseido Sculpting Bathing Ceremony priced at £217 (AED 1320).
One can only fully experience Atlantis when they stay overnight and discover the many attractions, exciting activities and the superb dining options. Whatever experience you're looking for, enjoy a truly memorable holiday at Atlantis, The Palm.
To avoid disappointment, reserve your room early at atlantisthepalm.com or by calling +971 4 426 1000 and quote "Atlantis Summer" to enjoy the best of summer at Atlantis, The Palm.
*Please note that the AED 895 rate is for room only, per room, per night and does not include service and authority fees. Valid for stays from 8 May to 30 September 2011 only.