Planners give go ahead for family homes in Ormskirk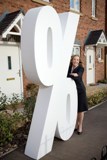 Persimmon Homes' plans to redesign its Nightingale Walk development have been given the go-ahead by local councillors.
Officials at West Lancashire Borough Council approved Persimmon's planning application to reduce the number of apartments at its Wigan Road development and replace with 58 traditional three and four bedroom family homes which over the last few years have been in notoriously short supply.
At a meeting held last week (Wednesday 18th May), planners gave the Lancaster-based house builder the green light to revise plans and release a new collection of properties and thrilled with the outcome, Diane England, Persimmon's sales director, said: "As soon as we learnt that we'd been granted planning permission, we wasted no time in releasing a collection of traditional homes for sale. We are delighted to report that within hours a reservation was taken which proves that our decision to go ahead with the re-plan was the right thing to do.
"There is clearly a demand for this type of property in Ormskirk and we are really pleased that we are helping address the shortfall."

For a limited time, selected homes at Nightingale Walk are available with Part Exchange or Shared Equity whereby purchasers pay just 80 per cent of the price of the property and defer the remaining per cent for up to five years. With Shared Equity, three bedroom properties are currently priced from just £146,396.
Nightingale Walk is within walking distance of the historic town of Ormskirk and benefits from good transport links to Liverpool, Preston and Southport. The surrounding area has vast green fields and is mainly agricultural and boasts many interesting places to visit such as Martin Mere and miles of beaches and sand dunes stretching from Southport to Liverpool.
For further information on the new release of homes at Nightingale Walk, visit: persimmonhomes.com