Bespoke DAF XF105 adds glitz and glam to Alex Glenn's fleet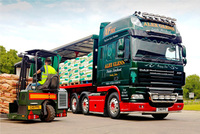 Bedfordshire-based fresh produce wholesaler Alex Glenn Potatoes has taken delivery of its very first DAF tractor unit; a fully customised DAF FTG XF105.460. The vehicle, pictured outside supplying DAF dealer Marshall's of Cambridge, will be the new showpiece of Alex Glenn's fleet and features a host of eye-catching exterior enhancements.

The unique XF comes with Alcoa Durabrite Alloy wheels while the polished theme continues with chrome side bars incorporating LED lights and side skirts for maximum visual effect. However, the exterior modifications don't end there because in addition to twin vertical exhausts are two roof-mounted air horns, polished stainless steel chassis infill and steps from WEP Fabrications, plus LED lighting around the rear edges of the air management kit.

As the vehicle will be used on overnight journeys, Alex Glenn has specified its range topping Super Space Cab on its new vehicle with all the luxurious inside.

Alex Glenn, Owner and Managing Director of Alex Glenn Potatoes, said, "We are always looking to try different truck makes and this is the first time that there is a DAF in our fleet. We were really pleased with the service we received at Marshall's and they ensured that the truck was built to the correct specification and at the right price. They were extremely helpful in also recommending reliable suppliers for our additional needs, which all added up to a quality final product.

"We deliver a large amount of product into London and the changes to the Low Emission Zone have meant we needed to get a clean and efficient truck, which is another reason why we've opted for the Euro-5 DAF. We're confident that the DAF will deliver and improve our efficiency. Typically in our industry, operators run rigid six-wheeler trucks, however, running a tractor and trailer combination gives us the flexibility to undertake other haulage work over-and-above our normal distribution".

The firm's XF105 is powered by PACCAR's efficient 12.9-litre 460hp MX engine with SCR Technology making it Euro-5 and EEV (Enhanced Environmentally Friendly Vehicle) compliant. For maximum fuel efficiency and driver comfort the company has opted for the AS-Tronic automated gearbox.

Glenn adds, "We were really pleased with the service DAF gave us in specifying this vehicle, given its complexity. Also DAF's dealer network and back-up support has a solid reputation and these were further key considerations for us in opting for the XF tractor unit. For the finishing touches we chose Bob Elbury of D.J Elbury and Son in Cambridgeshire to complete the metallic British Racing Green paintwork, and he and his team have done an outstanding job with this truck".

For the finishing touches, Alex Glenn has commissioned a spray-on pearlescent artwork from Paul Yeoman Artwork depicting the Pirates of the Caribbean movie image at the rear of the cab, in addition to air-brushed Alex Glenn logos on the doors. To round off this special DAF XF105 is a personalised plate: CH11PPE.