Buying more affordable than renting in Chester with Annington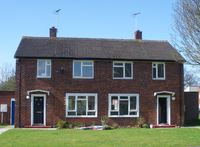 Buying a property in England is nearly £100 a month cheaper than renting one, according to a recent report published by Halifax. With rents having risen to an all-time high in the county, the report - which found that average monthly buying costs are 7% cheaper than average monthly rental costs in the northwest - suggests the time to buy is now, and Annington Homes is encouraging aspiring first-time buyers to look into the possibility of getting on the property ladder, with their realistically-priced three bedroom house in Chester, Cheshire.
Despite continual reports of would-be buyers struggling to get a foot on the first rung, and experts predicting that this will continue until 2020, Annington is pleased to be going against the grain. Having helped nearly 6,000 people to buy their first home, Annington (which specialises in the refurbishment and sale of former MoD homes) offers first-time buyers a much-needed lifeline, with its reasonable prices and the offer to pay £550 towards legal and survey fees.
Anita Brown, Regional Sales Manager at Annington, commented: "I would certainly agree that it's cheaper to buy than rent in Chester at the moment. However, with the market being particularly tough on first-time buyers, and many becoming increasingly disenchanted, we are thinking carefully about everything we can do to help them achieve their dream and buy a home they can call their own."
Anita continues: "At Annington, we have invested time, money and expertise in regenerating thousands of former MoD homes and returning them to the national housing stock. This has enabled us to price our properties realistically, with the Chester home on the market at just £129,950. Even in what is proving to be a tough market, we have continued to receive an excellent level of interest at Chester and we have certainly had a high success rate of getting first-time buyers onto the property ladder with us."
The semi-detached house in Chester would provide an ideal home for first-time buyers. The spacious three bedroom property is ready to move in to, having been freshly decorated and featuring new carpets throughout. Offering a large amount of space for such a realistic price, the house also boasts a new fitted kitchen with integrated cooker, hob, extractor and built in fridge/freezer.
The home is ideally located on the outskirts of Chester, close to all the shops, restaurants and community facilities that the city centre has to offer. Residents of Chester also benefit from good train access to other local cities, with direct trains to Liverpool and Manchester from Chester train station taking 45 minutes and just over an hour respectively.
For further information on Annington or its Chester development, visit annington.co.uk.