Meet new KMS California... reloaded!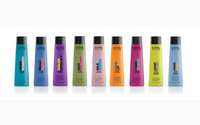 KMS California, the much-loved cult professional hair brand, is 35 years young! To celebrate it's milestone of hair perfection, KMS has had an evolutionary makeover. Not only has the LA hair brand received a catwalk-ready new look, it's reemerging into the spotlight with 12 new products, the latest innovative technology and a super-charged new attitude!
KMS has stood out for its hedonistic approach, embracing freedom of expression and celebrating individuality. The philosophy remains, but with a more urbane concept - be who you want to be right now, and we'll help you achieve your look. It's about Real Lives. Real People. Your Style.
Encompassing these values, KMS has redesigned its packaging to stand out from the crowd. Bold contrasts of fashion-forward color combinations create the unexpected, directional and fun packaging. They have combined a soft-touch, matt finished feel with glossy bold text for a stylish must-have range.
Understanding that KMS fans love their heroes, such as Moistrepair revival creme and Colorvitality shampoo, they have kept the favourites! There are 12 new products across the range, plus a new subline: Freeshape, with heat activated memory technology for unlimited style transformations that last until the next wash. The range now has 9 need-specific sublines.
KMS has a long-standing reputation for performance, natural ingredients and innovation. The new reloaded approach fuses the best of both worlds with Technologynature. This powerful fusion of new innovations, technologies and ingredients creates unparalleled product performance in every style. Each of the 52 products has a unique combination for perfect results from start to finish.
Start:Style:Finish is the KMS belief that a style starts with your shampoo - of which there are 9 brilliant ones to choose from. But what about the Style & Finish? It's time to meet the heroes...
New! Hairplay dry touch-up, RRP £14.30
Instant conditioning on-the-go, simply use on dull hair to add shine and revive. Top Tip - perfect for reviving a lack-lustre fringe before a night out!
New! Freeshape hot flex spray, RRP £15.95
Unlimited heat styling without damage for styles that last until the next wash. Top Tip - use on hair before blow-drying to set your style with heat-activated technology
New! Freeshape quick blow dry, RRP £13.00
Speeds up drying time by up to 50% while protecting against heat damage. Top Tip - use your usual products then spray quick blow dry as a last step before blow-drying
Hairplay dry wax, RRP £13.70
Flexible hold spray with matte finish for that perfectly "undone" tousled look. Top Tip - for volume, spray all over then tip head upside down and blow dry on a medium setting - big hair in an instant!
Hairplay molding paste, RRP from £17.30
No. 1 worldwide bestseller within KMS range. Provides texture with a pliable hold. Top Tip - Reactivate your style at the end of the day, simply wet hands and reshape
Hairstay style boost, RRP £14.50
A primer for the hair. Boosts the performance of your styling products and helps your style last up to 3x longer! Top Tip - Use on its own to enhance natural texture and boost body
Communication is key to KMS California. With a global network of creative stylists plus a worldwide loyal consumer following, KMS have designed a website to rival all others. Check out KMSCALIFORNIA.COM for the latest news and information on their interactive style grid. Get connected and upload your own reviews, images and ideas.
Talk, share and connect with KMS in the UK on Facebook, Twitter and YouTube. Simply search KMSCaliforniauk. Welcome to KMS California!