Mercedes-Benz C Class Coupe - refined by Eibach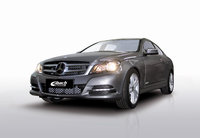 With the launch of the latest range of 'C' Class cars, Mercedes seems to have rediscovered its modjo. Sublime styling and quality construction appears to have turned to the fore once again and the latest range to carry the three-pointed star doesn't disappoint on any level. Eibach, the respected German spring manufacturer has recently announced a new range of chassis enhancements for the latest incarnation of Stuttgart's finest; the couth coupe. The new Eibach spring upgrade offers simply incredible levels of handling and ride quality. With the Mercedes already enjoying a sophisticated suspension arrangement, coupled to precise steering geometry, it is the perfect blank canvas for these new enhancements.
The ultimate compromise between ride and handling comes in the form of the Pro-Kit package. These progressively wound coil springs are computer-matched to work with the factory dampers and lower the car by around 30mm, maintaining a fantastic ride quality, balanced with improved stance and handling. Each spring is pre-stressed to eliminate any sag in later life, before being precision powder coated for a long period of service – even in the harsh UK climate.
The final finishing touch can be added by fitting one of the many Pro-Spacer kits. These range in width from 10mm to 30mm and by increasing the Mercedes' track measurement can drastically improve lateral grip and steering response, as well as allowing the tyres to really fill the arches for a truly aggressive appearance. Machined from solid aerospace grad aluminium and locating positively onto the hub, the Pro-Spacer range starts from £71.30 + VAT per pair.
The Pro-Kit comes with a comprehensive 5 year warranty on function and finish. The price is £168.70 + VAT.
For more information, visit eibach.com.