Buyers get a kickstart with Barratt at Stockton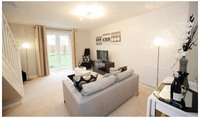 New homes in Stockton-on-Tees are proving popular with first-time buyers, thanks to a low-cost purchase scheme offered by Barratt North East which means they could move in with a deposit of just £3,500.
Barratt has sold 11 homes at Hardwick Green in just two months – seven of them through the Government-backed Kickstart initiative which enables buyers to move in for just 70 per cent of the usual price.
Kickstart brings the move-in price of a 2-bedroom "Washington" home at the development down from £100,000 to £70,000, with a deposit of just £3,500.
A 3-bedroom "Palmerston" home, usually £120,000, is priced at £84,000 through the scheme, with a deposit of £4,200.
Fenton Hewitt, Sales Director at Barratt North East said: "The Kickstart scheme is generating a great deal of interest.
It enables buyers to move in with a small deposit and because a smaller mortgage is required, monthly repayments are more affordable.
"Kickstart can dramatically reduce the initial cost of house purchase and for people who have been priced out of the market for years this is an outstanding opportunity. I'd urge anyone interested to come and talk to us as soon as possible."
The scheme gives buyers the opportunity to move in for only 70 per cent of the price, with the remaining 30 per cent covered by a loan from Barratt and the Government's Homes and Communities Agency.
It is open to a wide range of people who don't currently own their own home. Eligible households will be earning less than £60,000.
More than 100 Barratt homes are already occupied at Hardwick Green, which is well-located on the north western fringe of Stockton, with a range of amenities on the doorstep.

The Washington is a best-seller with buyers who appreciate its open-plan layout, two double bedrooms and 624 sq ft of living space. It has a good-sized living room with dining area and French windows into the garden, fully-fitted kitchen complete with oven, hob and hood, downstairs cloakroom and family bathroom.
The Palmerston design offers over 750 sq ft of living space and has an open-plan living room, fully-fitted kitchen with dining area and French windows, and cloakroom. Upstairs are two double bedrooms and a single, and family bathroom.
For more information, visit barratthomes.co.uk.