Use your mouse to find a house with Miller Homes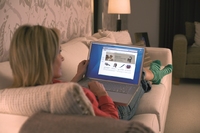 It's exactly 12-months since the region was engulfed by the worst winter weather seen for years and with plunging temperatures a similar situation is forecast for this year.
And with next week predicted to be the busiest online shopping week, as suggested by retail experts, house builder Miller Homes says its business as usual for its prospective home buyers as its website with extensive image library, is still up and running 24-hours a day for people to view a show home at their finger tips - so they aren't left out in the cold this year.

Online purchases rose by more than 17% last Monday (December 5), compared to the same time last year, according to payment processor Sage Pay. But experts are now suggesting that this will not be the peak of this year's Christmas online shopping season, they believe that this Monday, (December 12), could claim that milestone instead.

The day, dubbed Cyber Monday proves that home owners don't need to put off their search for a new home as they can still get online and at the click of a button, they can enjoy browsing a range of purchase incentives, special offers and buying advice from the comfort of their living room.

Miller Homes regional sales director Steve McElroy said: "People that are looking to purchase a new home and would still like to have the luxury of visiting a show home this winter should not be put off by the thought of trudging through snow and putting themselves at risk.

"Last year we experienced a dip in visitor numbers, due to the snow, so this year we are advising people that they don't have to put off their search for a new home, as they can still do this online and view show homes just as clearly as they could in reality - you really can use a mouse to find a house!

"Our team of experienced sales advisers and independent financial advisers will also be on hand over the festive season to answer any questions or queries by email or telephone."

Viewing a Miller home online allows the user to view an extensive range of house types available . Home buyers can benefit from seeing internal and external images, key features, floor plan, measurements and a detailed description of the home.

Home buyers who find a home they like online can email Miller Homes to confirm their interest and make an appointment with a sales adviser at their convenience when the snow melts.

Miller Homes is also on Facebook and Twitter for people to keep up with life on individual developments.

Miller Homes currently has ten active developments throughout the region from Rothbury down to Teesside and across to Crook. Properties range from two-bedroom starter homes priced from £109,950 to five-bedroom detached family homes priced from £396,000.

And, with a range of purchase initiatives available to help first time buyers and existing home owners, perhaps there has never been a better time for people to buy a new home. Visit millerhomes.co.uk this winter to view every house type at ease.