Legoland Windsor recruits Junior Concierges for hotel opening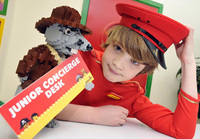 A dream holiday job for children is up for grabs at the LEGOLAND Hotel when it opens at the LEGOLAND Windsor Resort next Spring - the opportunity to be one of the world's very first Junior Concierges. A Concierge for children who is uniquely placed to offer advice and tips because he or she is a child.
The position, open for all 8-12 year olds, requires a passion for LEGO, a fondness for theme parks and a curious and enquiring mind. Full training, including detailed orientation of the 150 acre LEGOLAND Windsor Resort will be given to enable the Junior Concierges to share their knowledge with young guests and advise them from a unique "kids-eye" perspective.
"A handful of hotel's offer special concierge services for younger guests, but the best people to advise children on what to do during their stay is the children themselves," said Stephen Cotton, Hotel Director at the LEGOLAND Windsor Resort. "So we are going to let the kids do the talking and are looking for a team of Junior Concierges, to be on site at peak times and give their peers a real insight into the Resort. Anything, from where to spot the most exciting or unusual LEGO models to Q-busting tips for the rides, best seats for shows or where to buy the tastiest ice cream."
A team of six boys and girls are sought to take up the post on a rota basis from when the hotel opens in March. Each concierge will receive a free weekend at the Resort with their family over their tenure, including a stay in an imaginative LEGO themed room, two days on park - and plenty of LEGO to play with. They will have their own bespoke uniform and Junior Concierge Desk open morning and evening.
Wannabe Concierges should log on at legoland.co.uk/concierge and download an application form, which should be returned by Friday 27 January 2012. Successful applicants will be informed by February 3 2012 and should be available to attend training during February Half Term, w/c February 13 2012.
For full T&C's go to legolandwindsor.co.uk.