Toshiba CAMILEO Z100 Full-HD 3D camcorder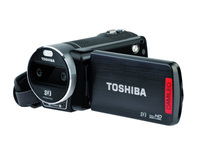 By unveiling the CAMILEO Z100, Toshiba Europe GmbH has expanded the world of 3D entertainment to its CAMILEO camcorder family. The latest member of Toshiba's comprehensive camcorder portfolio allows customers to record movies in stunning 3D quality and with a Full-HD resolution of 1920 x 1080. Thanks to the 3D Parallax Barrier LCD display the user can directly watch the recordings glasses-free in 3D on the integrated 7.1cm (2.8") LCD touch-screen. The CAMILEO Z100 offers an 8x digital zoom in 3D mode for capturing even small details. Via its HDMI® port the CAMILEO Z100 can easily be connected to a 3D TV or laptop. Intended for people who want to conveniently capture 3D images, the compact and elegant CAMILEO Z100 offers advanced innovations and outstanding value for money. It will be available in Europe starting from the second quarter of 2012 (local availability may vary by country).
CAMILEO Z100 lets users enhance the quality of their videos
"With the CAMILEO Z100 we expand the fascinating 3D technology to our camcorder family", Andy Bass, Vice President Sales and Marketing Toshiba Europe GmbH says. "It is the logical next step, as it enables our customers not only to consume the fascinating effects of 3D films, but to produce stunning 3D content themselves such as family moments or memories of vacations."
Switching from 2D to 3D by simply touching a button
The new CAMILEO Z100 comes with a Full-HD 1920x1080p resolution and can of course also be used for 2D recordings. To switch to the 3D mode the user simply has to touch the 3D button at the side of the camera. While the user can immediately enjoy the glasses-free 3D experience on the 7.1cm (2.8") LCD touch-screen, the camera can also easily be connected directly to a 3D TV or laptop via the HDMI® port for playback on larger screens. The CAMILEO Z100 supports 8x digital zoom in 3D mode and up to 120x digital zoom when filming in 2D.
Intuitive navigation and useful technology for high-quality videos
Toshiba's new graphical user interface allows an intuitive navigation through all the camera's settings via the touch-screen. When filming in 2D mode the Electronic Image Stabiliser (EIS) minimises any shaking of the image caused by rapid movements of the camera. The Backside Illumination (BSI) sensor significantly improves the video quality when filming in poor light conditions e.g. during nightfall. In addition to the 128MB internal memory the CAMILEO Z100 supports SD memory cards up to 128GB.