Canon enhances LEGRIA HF M-series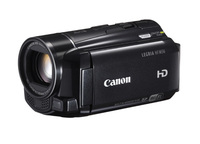 Canon enhances its LEGRIA HF M-series with the launch of the new LEGRIA HF M52, LEGRIA HF M56 and LEGRIA HF M506 – a premium collection of touch-screen AVCHD camcorders. Underpinned by Canon's professional HD CMOS PRO sensor, this range combines a superior quality Full HD video system, with new, in-built features including Wi-Fi functionality and MP4 recording support.
Providing easy connectivity to Apple's portable devices and the ability to upload to YouTube and Facebook, the LEGRIA HF M-series is ideal for users looking to easily share, view and store their creations. All models feature an enhanced version of Canon's HD CMOS PRO sensor to provide outstanding, professional-quality Full HD video, even in low light, while new Intelligent IS and improved Story Creator make it easy to create high-quality movies.
Share, view and store with ease
Integrated Wi-Fi functionality in the new LEGRIA HF M52 and LEGRIA HF M56 means users can easily share and view their videos without needing to first transfer them to a PC. With MP4 recording and the new free to download 'Movie Uploader' iOS application, movies can be shared effortlessly. Direct connectivity with iOS devices, such as an Apple iPad or iPhone, lets users view or store their high quality movies on the go and even share movie clips to YouTube and Facebook directly from their portable device.
The new integrated Wi-Fi functionality enables users to wirelessly connect and transfer footage directly to PCs from the LEGRIA HF M52 and LEGRIA HF M56 as well as allowing them to connect to wireless home networks for instant movie uploads to YouTube and other social networks . Users can even wirelessly stream Full HD movies straight from the camcorder to any DLNA certified HDTV or laptop.
Both the LEGRIA HF M52 and LEGRIA HF M56 offer users direct back-up of precious home movies to external hard-disk drives quickly and easily via a USB cable, ensuring internal memory space can be freed up as and when you need it.
Professional imaging technology for everyone
Benefitting from an evolved HD CMOS PRO sensor, each model now offers even better performance in low light. The LEGRIA HF M-series benefits from a 20% increase in low-light performance compared to the previous LEGRIA HF M-series, ensuring all images are even sharper and more detailed when it matters most.
The LEGRIA HF M-series features a Canon HD Video lens with a sophisticated optical system designed for fast, silent and accurate performance and minimal distortion. A 10x optical zoom allows users to shoot subjects from a range of focal lengths and an advanced iris diaphragm helps create more attractive background blur.
New and advanced Intelligent IS
The LEGRIA HF M-series also features enhanced Image Stabilizer technology with the new Canon Intelligent IS, which automatically adapts the IS settings based on the scene being filmed. Removing the need to manually switch between settings, Intelligent IS makes it even easier for users to capture great, shake-free footage in a range of shooting situations. Regardless of whether you're on the move, zooming in on a subject or using a tripod, the camera will do the hard work for you.
Sounds made easy with Audio Scene Select
Make your movies sound as good as they look with Audio Scene Select. Available across the LEGRIA HF M-series, Audio Scene Select allows users to effortlessly record great sound by selecting one of five options that best suit the scene they are in, including Noise Reduction, Music and Speech. Once selected, the camcorder automatically fine-tunes the sound settings to match the scene you are shooting, removing the complexity of manually adjusting settings yourself.
Effortless creativity with improved Story Creator
Story Creator, which is now enhanced to include an onscreen help guide, acts as a personal movie director, providing users with guidance regarding the type of scenes they could capture to tell their story – whether it's a holiday diary or a family gathering. Story Creator is a fun, easy and innovative way to shoot and share footage, and is handled completely in-camera – allowing users to create their movie as they go.
All models feature a large, full 7.5cm (3.0") touchscreen allowing users to access a range of controls, including Touch Decoration and Cinema-Look filters, providing users with extra ways to creatively enhance their footage without the need for a PC or additional software.