City & Country's portfolio of pre 1919 property buck the trend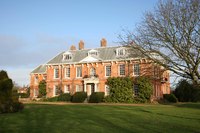 As uncertain market conditions look set to continue in 2012, latest reports that homes built before 1919 have soared in value in the last 25 years are bucking the trend, inciting prospective home buyers to search for properties with character, to provide a reassuring sense of security and the knowledge that their property will retain its value. With 82% of estate agents said to believe that period architecture boosts the value of a property, and 78% thought it made a property sell quicker, the popularity of period properties is unlikely to wane, and award-winning restoration specialist, City & Country Group, hopes to show how historic homes, such as those on sale at Balls Park, in Hertford, can be an investment purchase, and a safe bet, for those looking to make their next move in the housing market.
Whilst beautiful period properties have an obvious historic and aesthetic value, research from the Bureau of Economic Affairs suggests that historic homes also possess social and cultural value, as they provide a distinctive character and create a sense of pride for residents who live in them. The Grade I Listed Jacobean mansion house and Grade II Listed coach house and stables outbuildings at Balls Park have been meticulously restored by award-winning restoration specialist City & Country Group into a range of stunning apartments and duplexes, and offer the very best of modern living in a unique historic setting.

The properties boast a range of original features, including elaborate decorative plasterwork, ceiling to floor panelling and marble fireplaces, and - as it is difficult to recreate the architectural complexities and unique details of these traditional styles – the homes are likely to retain their value, making them a good investment purchase for buyers cautious of the current economic climate.
The Mansion properties boast grand living spaces that benefit from a complementary blend of period style, original features and elegant contemporary interiors. Bespoke kitchens have been designed for each property and include a range of integrated stainless steel appliances, whilst the bathrooms incorporate white sanitaryware and chrome fittings. Throughout the properties, top quality flooring has been provided including 100% wool carpets, porcelain floor tiles, parquet flooring and restored original floorboards.
Elena Sali moved to Balls Park with her partner Sandeep last year, and comments: "We both knew that Balls Park was special; the homes are incredibly beautiful, with so many unusual architectural details and set amidst vast grounds. For Sandeep and I, our new home at Balls Park ticks all the boxes."
David Walker, Head of Sales & Marketing at City & Country Group, comments: "Boasting beautiful architecture and high-quality interior design, it is no surprise that the homes available at Balls Park have experienced an incredible level of interest. They have been popular with a wide range of home buyers, from retired couples to first-time buyers and young professionals, and it is their widespread appeal that makes the properties such a great investment opportunity. The modern interior décor, coupled with the traditional period features, makes the properties unique in a very competitive housing market, and as such they are the ideal homes to buy as a safe investment for the future."
Balls Park is set in 63 acres of picturesque Grade II listed parkland, included on the English Heritage Register of Historic Parks and Gardens. Each of the homes in The Mansion will have access to the private gardens and historic parkland, giving purchasers a rare opportunity to live within an historic country manor without the typical responsibilities of maintaining an estate of its size.

Situated within the Metropolitan greenbelt, Balls Park is an exclusive community, and provides the perfect location, with a wide variety of shops, restaurants and cafes just a short 10-minute walk away in Hertford Town. Kings Cross, Moorgate and London Liverpool Street are all accessed easily in under 50 minutes by train from Hertford with two separate train lines.

The first apartment available in the mansion at Balls Park is priced at £1.5million. For those keen to find out more about purchasing one of these exclusive homes, visit balls-park.co.uk.