Treat your Valentine to an Aruba break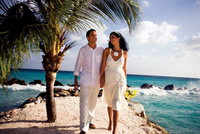 Sunset cruise: Take Aruba's most romantic aspects and set sail with them, as you watch the pristine white sand beaches skim by. The rays of the setting sun will bathe the cruise boat, followed by the captivating moonlight, which will shimmer off the waters. Whether you lounge below by the open bar, enjoying tasty tropical snacks and assorted cool cocktails, or stay on deck, taking in a refreshing breeze and the sights along the shoreline, it will be a sensational feeling.
Moonlight dinner on the beach: It won't take long to find the right ambiance for a romantic dinner in Aruba... Hovering over the ocean like a glowing lantern, Pincho's Grill and Bar is built on a rustic pier: with only 11 tables, it glimmers at night from a distance as hundreds of lights reflect off the water. Alternatively, stay on shore and sample exquisite dishes at Passions on the Beach, with the soft light of torches all around and sugary white sand between your toes. The choices to taste Aruba's fine cuisine on the beach are endless, with the sound of waves and a breathtaking sunset as the natural backdrop.
Luxury spa at the secluded Spa Cove: Aruba used to be the biggest aloe vera exporter in the world so spa treatments on the island are indulgent - but for a truly unique experience head to the secluded Spa Cove, on Aruba's private Renaissance Island... Offering the ultimate in tropical, open-air treatments, sample packages include the Sunset Romance Couples Package and the Caribbean Morning Couples Package. Alternatively, stay on shore and head to ZoiA, the brand new spa concept of Hyatt Regency Aruba: its all-natural treatments are based on four key Caribbean elements, sun, sand, sea and love.
Discover the romantic allure of the Baby Beach: Located at the southeastern end of the island, Baby Beach has taken its name from its shallow waters which are safe enough even for a baby - although many may argue that it is actually because the beach is so romantic that a lot of babies are conceived there! Baby Beach is a sandy half-moon expanse in a calm lagoon, with alabaster sand dunes and waters so beautiful it feels as if they have been photoshopped! Swimmers can wade out for a long distance and still touch the sea bottom whilst snorkellers will behold a colourful kaleidoscope of coral and tropical fish!
Head for picture perfect views at the California Lighthouse: Perched on a high hill, the California Lighthouse is elevated enough to view much of the island's sandy beaches on the western coastline, making the Aruba sunsets from this historic landmark even more stunning. However, although it may be one of Aruba's most scenic trademarks, the story of the name behind the California Lighthouse is far than happy: it is said that it was named after a ship called the Californian, which had received distress signals from the Titanic as she went down in 1912. The Californian's radio operator was off-duty at that time and this small piece of bad karma perhaps sealed its fate, as it also went down in rough seas off the Aruba coast a few years later...
If you feel inspired, here are some sample packages:
The adults-only Bucuti Beach Resort and Tara Suites (bucuti.com) offers a special five-night Romantic Getaway package, from $2,602 (£1,655) per couple. Including accommodation, a bottle of chilled Champagne in the room, daily breakfast, candlelight dinner for two on the beach and daytime snorkel or sunset sailing cruise.
The recently refurbished Amsterdam Manor Beach Resort (amsterdammanor.com) offers a special five-night Deluxe Romance package, from $1,489 (£947) per room. Including accommodation in a superior studio with jacuzzi, bottle of Champagne upon arrival, bath robes, a Champagne breakfast in bed, a romantic cruise and a romantic dinner at Passions on the Beach.
Prices for the Honeymoon Package at Divi Aruba All Inclusive (diviaruba.com) start from $550 (£350) per couple per night. Including, in addition to the regular Divi Aruba features, guaranteed upgrade to Beachside or Oceanview room with spacious patio or balcony, candlelight dinner for two, bottle of Champagne, free night first anniversary certificate and remembrance gift.
For more ideas and information on visiting Aruba, visit aruba.com.